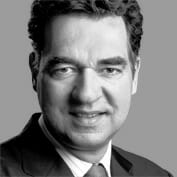 Berlin, November 25, 2019 – Apricum, a transaction advisory and strategy consulting firm specializing in renewable energy and clean technologies, announces the appointment of Frank Beckers as partner. He will contribute his expertise to Apricum's global transaction advisory and corporate strategy practices, with a focus on Europe and the Middle East.
Drawing on a wealth of experience in global investment banking and consultancy, Mr. Beckers will provide transaction and strategy advice to developers, governments and other project participants throughout the entire life cycle of renewable energy and other cleantech projects.
Nikolai Dobrott, Apricum's founder and managing partner, commented on the appointment: "Renewables continue to grow rapidly worldwide, increasingly driven by compelling economics independent of government support, especially in Europe. In light of these market tailwinds, our clients expect more and more sophisticated advisory support in relation to project and corporate transactions, but also strategy. We are delighted to further strengthen our team with Frank Beckers as a new partner with such a distinguished background and track record in executing transactions and providing expert strategic advisory solutions in infrastructure finance."
"We live in an era of accelerating change, in which the imperative to limit climate change and further develop renewable energy solutions has become a top agenda item for most governments and companies. I am very excited to join Apricum, a dedicated renewable energy and cleantech advisory platform. I am looking forward to helping our clients develop successful strategies and bespoke projects as well as financing solutions for transactions in our sectors," said Frank Beckers.
Mr. Beckers joins existing Apricum partners Nikolai Dobrott, Florian Haacke, Dr. Moritz Borgmann, Florian Mayr and Duncan Ritchie.
For over 25 years, Frank Beckers has acted as a financial advisor to governments, developers and investors on infrastructure and conventional and renewable energy projects with a total transaction volume of over USD 100B. He has advised the governments of Abu Dhabi, Egypt, Kuwait, Saudi Arabia and Singapore as well as the European Commission on procurement and public-private partnership (PPP) projects. In addition, he has successfully structured and arranged debt and equity financing for infrastructure and energy projects in Africa, Asia-Pacific, Europe, the Middle East and Latin America.
About Frank Beckers
Mr. Beckers joins Apricum from his own management consultancy firm Symbulos, which he will continue to oversee in Dubai in addition to his role at Apricum. Symbulos works outside the renewable energy and cleantech sectors and focuses on PPP, procurement and project strategy advice for infrastructure projects. Mr. Beckers previously served as head of project finance and advisory at First Abu Dhabi Bank, as senior advisor to McKinsey & Company and in several senior positions in project and asset finance at Deutsche Bank in Frankfurt and Dubai. He is also a member of the advisory board of Dii-Desert Energy. Mr. Beckers holds a master's degree in international management from the Community of European Management Schools and ESADE Business School, Barcelona, as well as a master's in economics from the University of Cologne, Germany.
About Apricum
Apricum – The Cleantech Advisory is a transaction advisory and strategy consulting firm specialized in the cleantech and renewable energy space. Apricum's team combines decades of experience in industry, corporate finance and project finance with an in-depth understanding of renewable energy market dynamics. Apricum has an extensive global network among equity and debt investors, providing expertise and support to close the most favorable transactions. Apricum is headquartered in Berlin with further representative offices in Europe, the Middle East, Southeast and East Asia and North and South America.