Helping you accelerate the transition to green mobility
OUR Proven solutions tailored to your individual needs
We offer technical, commercial, and financial expertise spanning the complete  electric vehicle ecosystem – from automotive manufacturers, EV charging providers, electric utilities and oil and gas companies, to government entities, private equity and infrastructure funds.
CHARGE SMARTER
Leverage our network to expand into new markets, develop new EV charging solutions, set up joint ventures, or raise capital with the right investors.
FUTUREPROOF MANUFACTURING
Refine your EV charging solution offering, strengthen your upstream battery supply chain, or futureproof your downstream value chain with second-life batteries and battery recycling.
evolve your strategy
Craft your EV charging strategy, futureproof your vehicle-grid integration, or identify the right EV charging partner or acquisition target.
STREAMLINE TRANSACTIONS
Seek independent expertise for your technical and commercial due diligence needs, or leverage our network for buy- or sell-side M&A transactions in green mobility.
(Corporate) Strategy development - Unleashing growth
We help ensure that clients are best positioned to realize arising business opportunities and long-term success through robust strategy. Our services are modular and naturally customized to clients' needs. We collaborate closely with executive teams and key stakeholders to understand their unique challenges, goals and aspirations. Through rigorous analysis, research and industry benchmarking, we reveal untapped opportunities and identify the most effective strategic pathways for our clients.
Analysis of current market situation and strategy implications
Current strategy review
Vision and goal setting
Product portfolio optimization
Development and sharpening of value propositions
Growth driver definition
Digital transformation
Business model design and review - Unlocking sustainable value creation
We advise our clients in crafting innovative business models that drive growth, foster sustainability and deliver tangible impact. We can help with assessing current business models, identifying and illustrating potential opportunities and gaps, as well as designing a business model from scratch. Our support covers all elements defining a business model.
Customers:
Key customer segment mapping, identification of pains to mitigate as well as gains to facilitate
Customer segment quantification and prioritization
Definition of customer relationship approaches to ensure acquisition, retention and upselling
Value proposition and product:
Value proposition design for target customer segments
Specification of products and services to support the value proposition
Financials:
Key revenue stream identification
Pricing approach definition
Creation of detailed bottom-up cost models
Infrastructure:
Development of channel strategy
Determination of key partners and developing partnership/ecosystem strategies
Identification of key activities and resources for business model delivery
Market analysis and assessment - Creating in-depth understanding
Our team provides research to equip clients with the strategic insights needed to thrive in the ever-evolving cleantech industry. These tailored solutions enable our clients to make well-informed decisions, based on the knowledge of market opportunities, growth potential, regulations and competitive environment, amongst others.
Typical analyses include:
Market sizing and forecast
Competitive player landscape and archetyping
Identification of competitor strategies
Segmentation of customers and definition of customer preferences
Market trend evaluation
Analysis of regulations and their implications
Market entry strategy - Expanding with confidence
With our in-depth technical and market knowledge, we assist cleantech businesses in successfully entering new markets and maximizing their growth potential. Building on top of the thorough understanding of the market (see Market analysis and assessment), we deliver a tailored market entry strategy that reflects local dynamics.
Market analysis and prioritization
Value pool identification
Entry mode selection
Development of positioning
Market entry roadmapping
Key customer and partner identification
Business planning
Supply chain strategy - Driving operational excellence and resilience
Leveraging our deep understanding of cleantech market trends, supply chain knowledge and data-driven insights, we partner with clients to design customized strategies that drive operational excellence, reduce costs and deliver superior customer value.
Mapping of existing supply chain strategy along key parameters
Pricing analysis
Market trend and growth projection insights report
Supplier analyses
Risk and opportunity identification
Strategy assessment and initiative development
Strategy implementation / Project management office - Transforming vision into action and results
Our team of experts collaborates closely with organizations to embed the transition into all aspects of their business, translating high-level goals into tangible actions. By fostering clear understanding and accountability, we ensure that employees play their part in executing the strategy and maintaining best practices. With meticulous attention to detail and analytical rigor, we assess organizational capabilities, identify gaps and design tailored interventions for long-term success.
Managing project planning and execution
Organizational design and structure
Capability building via recruiting, staffing, training, and employee development
Change management
Performance improvement and KPI tracking
Communication and stakeholder engagement
M&A – Strategic acquisitions and divestments
For buy-side execution, we follow a systematic and analytical process tailored to our clients' business objectives and assist them in finding and contacting targets. By providing due diligence reports, we ensure a solid foundation and negotiate and close the agreement. On the other hand, sell-side execution also requires a carefully structured and targeted approach. To that end, we create the teaser and investment memorandum for investors, select and approach investors, coordinate and monitor the due diligence process and structure the deal while moderating negotiations and preparing the closing.
Joint ventures – Collaborting with the ideal partner
Our experienced transaction advisory team supports you at every stage from screening prospective partners, conducting a thorough due diligence to establish credentials, to structuring a detailed strategic business plan for the partnership that ensures both long-term as well as short-term success. As cleantech specialists, our technology expertise and deep understanding of the dynamics in cleantech markets maximize your JV's competitive advantage.
Fundraising
We jointly define the target investors and/or partners and work on a compelling storyline for the investor approach. We organize and lead meetings with you and high-potential investors to select the most suitable candidates for further discussions and provide ongoing negotiation support to close the best possible deal. Committed to transparency, we only introduce your company to potential investors who have been explicitly approved by you beforehand.
Due diligence – Knowing the real value of the deal
Our team of business and technology experts examines each business opportunity in detail, evaluating all relevant commercial, market and technical aspects.
Project finance – The most advantageous financing structure
We support project developers to successfully navigate complex international financing requirements with multiple currency cash flows involving governmental and private sector lenders locally, regionally and internationally. We help you mitigate risk and build innovative and highly-structured deals with the optimum mix of equity and debt aligned to your strategy.
IPP (sell-side) – Maximizing local value creation
Developing and implementing an effective long-term renewable energy program is a complex task for governments involving many stakeholders and a myriad of economic and legal considerations. With a successful track record in advising governmental institutions in Europe, the USA and the MENA region, we offer a full range of services including the evaluation and selection of the most suitable support scheme, the structuring of local content regulations, effective grid integration, and the development of optimal procurement, industrialization and cluster strategies. We advise governments on embedding renewable energy into their broader energy strategy, achieving competitive pricing and maximizing local value creation.
Bid support and management (buy-side) – Optimizing your energy project
We can support you from the bid preparation stage and will see you through until you have achieved financial close of the project. Post financial close, we can supervise construction of the power plant and commissioning up to the date of commercial operation.
The global electric vehicle fleet is expected to grow approximately 20x between 2021 and 2030.
Strong corporate commitment
As of 2022, over 120 companies have joined the EV100 initiative and committed to transitioning their fleet to EVs and/or installing EV charging infrastructure at their premises by 2030.
EVs are heling decarbonize the transport sector, which accounts for 23% of global energy-related CO2 emissions.
Major electricity grid impact
Electrifying nearly all road transport will result in 27% increase in global electricity demand.
At the Crossroads of Energy and Transport: Navigating the Electric Vehicle Ecosystem with In-Depth Understanding and Key Player Access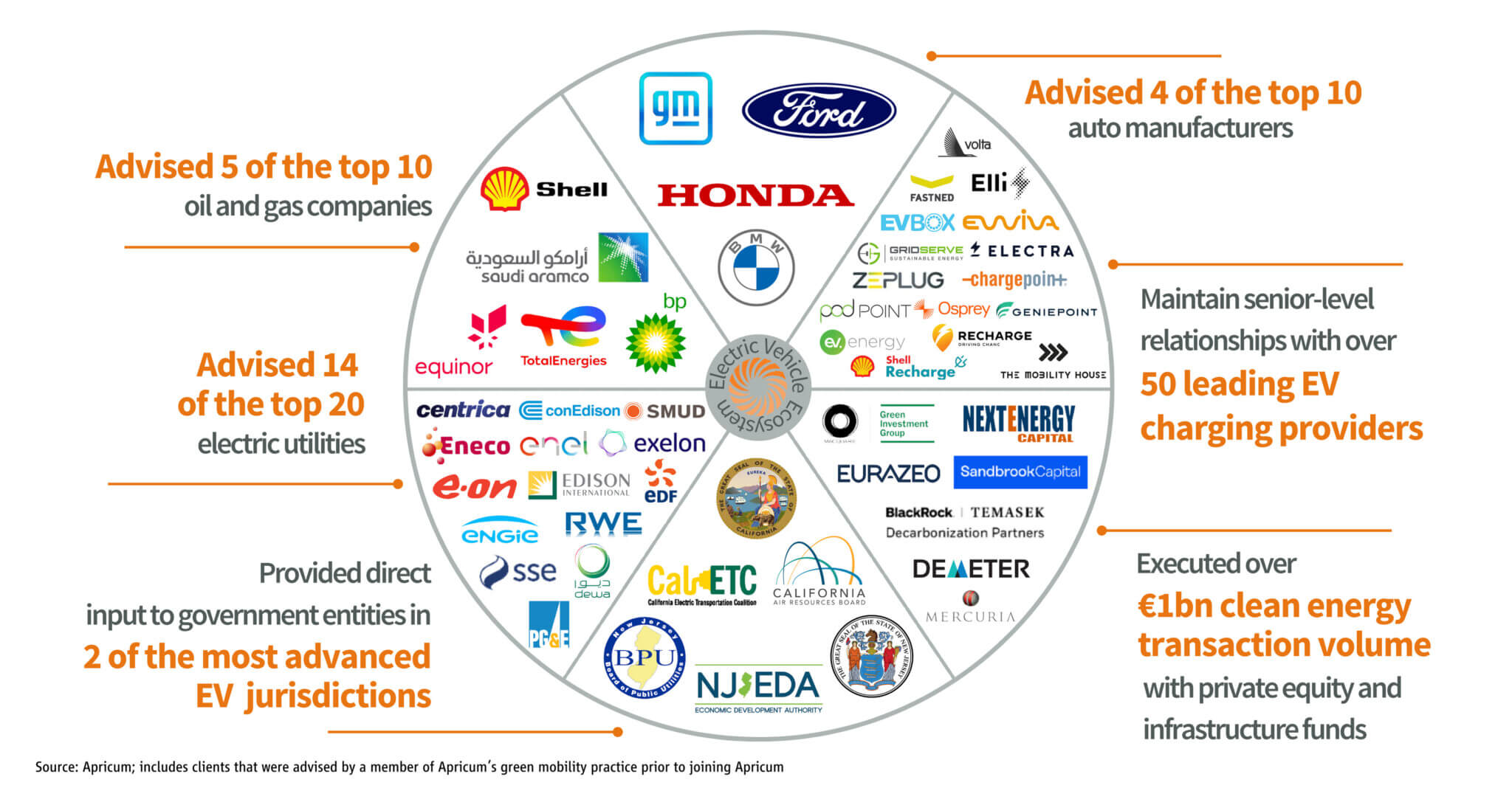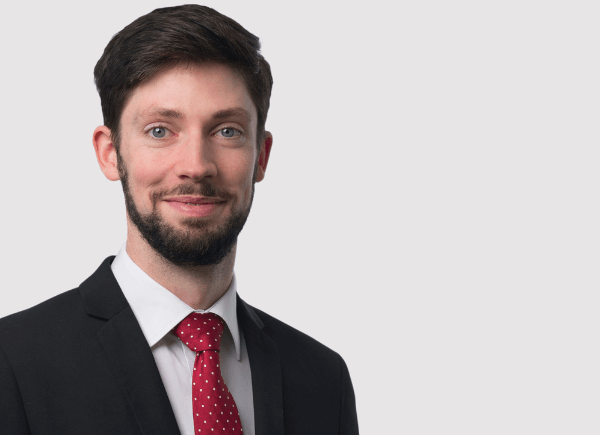 Alex Metz
Director and Head of Apricum's Green Mobility practice
"After solar PV, wind, and battery storage, electric vehicles are the latest cleantech sector reaching a tipping point. Whether in North America (where I lived and worked for five years) or in Europe (where I'm currently based), we see a sense of urgency across the EV ecosystem to stay ahead of the market acceleration. We blend strategy consulting, transaction advisory, and technical expertise to help you succeed in the fast-moving green mobility space."
EXPLORE OUR GREEN MOBILITY news
CLIENTS WHO HAVE BENEFITTED FROM OUR GREEN MOBILITY EXPERTISE







"We couldn't have made a better choice, and the value add was tangible. Going forward we will continue recommending Apricum as our top pick for any client seeking to hire a commercial advisor for maximizing the success of its processes."
"It's not obvious to me if there are any areas you could have done better… we definitely picked the right advisor."
 "Apricum has done a great job shaping our electric vehicle strategy"
 "Working together with Apricum in the field of smart charging was definitely the right decision! Alongside the great expertise, always being well-structured, finding realistic solutions and the willingness to go the extra mile, it was the relaxed mood even under pressure that made the project successful."