Unlocking client value through strategy consulting and investment banking
Hybrid creatures are more common in mythology than reality. Minotaurs, griffins and mermaids are rare. As Apricum marks its 15th anniversary, we discuss the hybrid model that is core to our client appeal.
We only work in renewables and cleantech, and we offer customers two services: strategy consulting and investment banking. These span traditional activities, from market forecasting and assessment, price curve analysis, new market entry, business model design, commercial analysis and benchmarking in strategy, to corporate and asset M&A, project finance, capital raising and due diligence in transaction advisory. Between these two sit activities like value optimization, JV creation and strategy execution.
No one masquerades: each discipline is staffed by career professionals from top tier consulting firms or investment banks. That alone is unique. But its power comes from what is 'under the hood'. Both are supported by a third discipline: profound industry and technical competence. The team includes PhD's from schools like Imperial, ETH and Oxford in photovoltaic coatings, silicon defects, hydrogen electrolysis membranes, energy transfer systems, industrial catalysts, climate physics, battery chemistry, etc who have typically worked in the industry and elite consulting firms.
"Our unique model elevates the quality of our advice beyond what is available from a bank or traditional consulting firm."
– Charles Lesser
Apricum leverages these three disciplines to the client's advantage by staffing multi-disciplinary teams across two practices via one operating model: as one team with one P&L, so there is never an impediment to what is best for the client.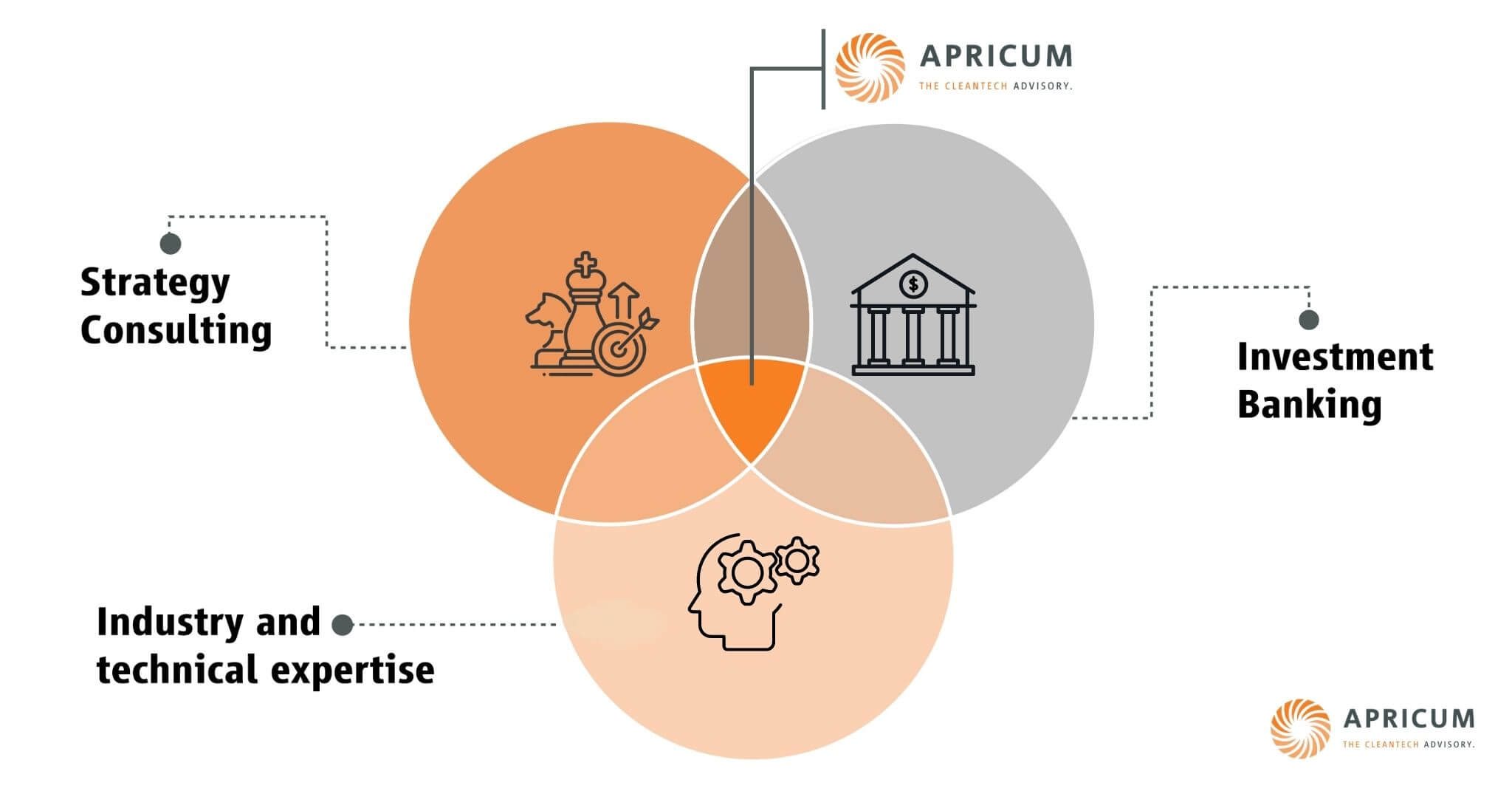 Does the Apricum Model Deliver Tangible Benefits?
We see the benefit week in, week out, in ten ways.
First, our unique model elevates the quality of our advice beyond what is available from a bank or traditional consulting firm. Our advisors stand on the shoulders of giants who have profound industrial expertise that supports the advice we give.
Second, it protects clients' capital. Cleantech is still immature. Even mature renewables' technologies, deployment methods and commercial models are evolving. Former industry hires typically look backwards to the methods they once knew. Strategy consultants typically look forwards. We bring this forward-looking view of industries and technologies to all our engagements. This matters when committing capital for a period of years.
Third, our approach funds specialist resources unaffordable to a pure bank or consulting firm. This is particularly valuable to investors bringing us due diligence assignments as investors are unused to such unambiguous insight in DD reports, which has driven extraordinary growth in demand for our DD services.
Fourth, it spreads industrial and functional expertise through the firm that is innate: we do not have to charge for it. This makes Apricum a compelling value proposition compared to alternatives.
Fifth, our specialized model empowers us to go beyond strategy to execution by bringing in the partners or capital required to deliver it. We understand the sensitivities and risks when designing transactions as solutions.
Sixth, this reality of executing our advice makes us accountable for that advice and its success, resolving one of consulting's traditional weaknesses.
Seventh, Apricum's unique hybrid model orients us to relationships, preventing the transactional mindset that bedevils the finance industry (and some consulting firms).
Eighth, because strategy is more often purchased by large industrials but capital raising by smaller firms, our blended model brings us exceptional breadth of vision across the cleantech industries, from large utilities and oil companies down to the start-ups and pioneers which can deliver their strategic ambitions. It allows us to see the horizon, yet also understand the challenges in delivering emergent technologies… and to then bring solutions.
Ninth, this blended model broadens and deepens our relationships in the energy industries. These relationships facilitate business for our clients. Cleantech, far more than traditional tech, relies on corporate venture capital (42% of all deals in 2020). Series B/C capital raising requires those industrial relationships, so banks are less reliable in delivering cleantech capital.
Tenth – crucially – Apricum's unique approach attracts extraordinary staff. Why would an exceptional consultant leave the world's top consulting firm to join this boutique? The phrases we hear are "shooting in the dark", or "feeling vulnerable". Consultants don't enjoy posing as experts without the expertise to back this up. Why do their technology experts prefer Apricum? Because P&L divisions mean they are commonly staffed to generalist consulting which wastes their talents. Actively contributing to the success of the energy transition is more satisfying, and why they became experts.
Finally, Apricum's innovative approach to consulting makes us fastidious about reputation. To be the executor of some transactions (as bankers), and arbiter on others (via commercial due diligence), requires holding our execution bankers to a higher standard than is typical for that industry. Getting the deal done is not enough – it must be a deal we would ourselves approve.
Of course, this model only works with a collaborative culture and if focus on client interests. We have to protect this culture.  Tell us if we don't.
Our assignments are rarely multi-year, yet each year the majority of revenue is from returning clients. Clients typically stay with us and that is the foundation of Apricum's growth. Our testimonials page says it all. It suggests these claimed benefits are matched by client experience, and this underpins our commitment to Apricum's blended model.
HOW APRICUM CAN HELP
Apricum is a global transaction and strategy advisory firm dedicated to renewable energy and cleantech. We offer the alternative energy industry an integrated suite of growth-oriented consulting services for companies and investors. Backed up by the energy storage field's top minds, deep local networks, and proven financial experience, we can maximize the value of your participation in the global energy market. Let us prepare and execute your next business transaction or design a specialized high-impact business model that drives the energy transition while creating growth and profitability for your organization and its stakeholders. If you would like to learn more about how we can enable your organization to compete and win in the booming energy storage space reach out to Charles Lesser.