Updated December 09, 2014
The Gulf region is not only home to some of the world's leaders in oil and gas production, it is also a powerhouse of renewable energy potential.
Many of the GCC[1] member countries are perhaps best known for their immense oil and gas reserves, however, they also offer excellent solar resources, and in many cases strong wind resources.
The GCC, however, is not a homogenous market and features some very key differences that influence the attractiveness of renewable energy (RE) in each country.
Being blessed with huge oil and gas reserves, why should the GCC countries even consider pursuing renewable energy?
Indeed, at first glance it does not seem to be very logical why the countries in the Gulf should rely on solar and wind for power generation given the abundance of oil and gas available. However, there is in fact a strong rationale: All Gulf countries are facing a dramatic increase in electricity demand, with the result that significant power-generating capacity needs to be added in the coming years. Solar and wind can effectively complement the existing conventional capacity and provide electricity at low cost of below 10 USD cent/kWh – about half the cost of oil-fired power generation at market prices. In fact, the most recent tender in Dubai has resulted in the remarkable tariff of 6 USD cent/kWh (unsubsidized). So, particularly oil-rich countries such as Saudi Arabia, Kuwait or the UAE are better off exporting oil instead of burning it domestically for power generation.
In addition, both business activities related to manufacturing and the development of solar and wind power plants contribute to the countries' economic development goals, in particular, local job creation. Considering the current high unemployment and very high rates of population growth, it is a factor that should not be underestimated.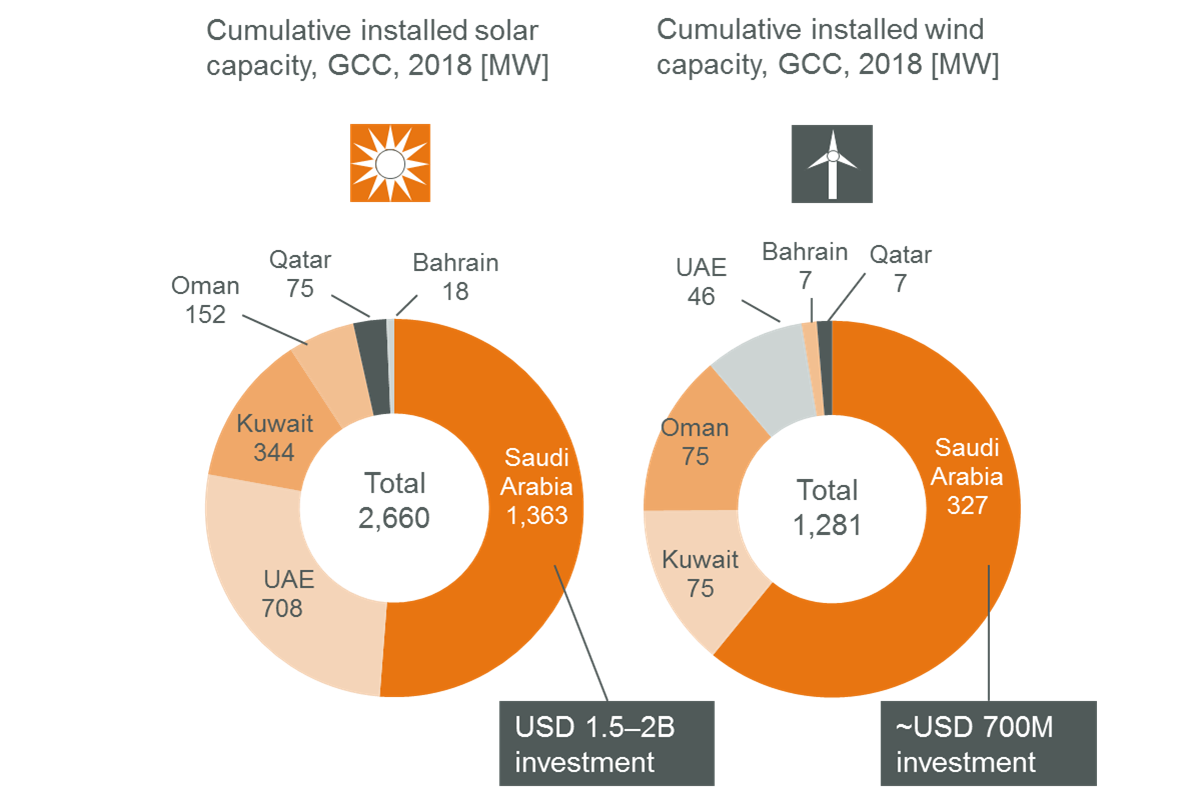 Source: EIA, Apricum wind and solar market model Q3/2014 center scenario
Which GCC markets offer the strongest RE potential?
Saudi Arabia, as the largest economy in the region by far, has the largest potential for RE according to Apricum's analysis. Reflecting a strong need for new power-generating capacity during the coming years, it is planning a massive renewable energy program that aims to install 54 GW by 2032.
This doesn't mean that other markets should be ignored however. Kuwait, for example, as another oil-rich country also has a strong rationale for RE and therefore has initiated a 2 GW solar and wind program. The frontrunner for large-scale RE deployment in the region has been the UAE realizing a 100 MW solar-thermal project under the Masdar initiative. Further large-scale solar projects are being planned both in Abu Dhabi and Dubai.
The remaining three markets, Bahrain, Oman, and Qatar, have also developed renewable energy targets, but policy mechanisms and a clear roadmap have yet to take shape. These markets should still be monitored as some projects are expected to follow once the larger markets have demonstrated the renewable energy concept in the region.
How can companies take part in the growth of GCC's RE markets?
We see a range of attractive business opportunities in the GCC's multi-billion USD RE markets, particularly in component manufacturing, project development, and power generation. The vast solar and wind potential in the GCC region is just starting to be realized. As we have seen in other emerging RE markets, the biggest long-term rewards await those players who establish their presence early in the market. Demonstrating long-term commitment and developing a local footprint are important keys to success in the Arab world. Involving a local partner is not always mandatory, but certainly recommended. Hence, finding the right local partner is a crucial task.
Apricum's renewable energy outlook for GCC countries
Bahrain

The smallest country in the GCC with just 1.2 million inhabitants in an area of only 765 square kilometers, it has also been the GCC country most affected by the Arab Spring. As a result of its small population, the power production capacity is small compared to other GCC countries. While it does have strong solar and moderate wind resources, the size of the RE market in Bahrain is very limited. There is a lack of RE research initiatives, no institutional framework for RE development and limited land availability for large RE developments. Consequently, the market will remain very small compared with neighboring countries.

 

Kuwait

One of the world's largest oil exporters, Kuwait has a major economic incentive to develop RE, as it generates around 70% of its electricity from oil. It has already set a target of 10% of electric power from RE sources by 2020 and 15% by 2030. Kuwait Institute for Scientific Research (KISR) has been mandated to rollout Shagaya RE project with 2 GW by 2020, and to advise government in the development of RE. With a strong economic rationale, political will, and renewable resources, Kuwait is likely to become a mid-sized RE market with major developments likely to coincide with those in Saudi Arabia and the UAE. This market is not without risk however, as no clear institutional framework or defined roadmaps have been introduced to date.

Oman

An absolute monarchy with steady growth in population and GDP, Oman features a growing demand for electricity and has diminishing oil reserves. Oman's leadership is attempting to diversify its energy mix and increase rural electrification. Its first RE steps have been with distributed systems to hybridize diesel generation. Despite Oman's strong solar and wind resources, no RE targets or scheme have been set, and it lacks the appropriate legal framework and transmission capacity for large-scale RE development in the medium term. Oman is likely to be a follower, and will wait until Saudi Arabia and the UAE have clearly demonstrated RE's viability.

 

Qatar

As one of the smallest nations in the GCC (population of two million) and one of the world's leading natural gas exporters, Qatar has a huge energy surplus and the highest per capita GDP in the world. Its ability to extract gas at low cost, cheap power generation and heavily-subsidized electricity prices mean that little financial incentive exists to develop renewable energy. Although a few medium-scale projects will take shape in the lead up to 2022, when Qatar will host the FIFA World Cup, we expect it to remain a minor RE market in the GCC union.

 

Saudi Arabia

As the largest economy by far in the Middle East, Saudi Arabia is also the largest potential RE market in the region. The country developed a massive renewable energy program that aimed to install 54 GW by 2032; this program, however, has been delayed and likely will not be implemented as originally announced. Nevertheless, Saudi Aramco and Saudi Electricity Company are both going ahead with their own initiatives and joint plans to develop renewable energy in Saudi Arabia in the short and medium term. Expect significant growth in the coming years for both solar and wind, as the Kingdom strives for a sustainable energy mix to preserve a large share of extracted oil for future export.

 

United Arab Emirates

The UAE is the most active renewable energy market in the GCC to date, thanks to Abu Dhabi's Masdar program and Dubai's Sheikh Maktoum project. In Abu Dhabi, several utility-scale PV power plants are being realized as part of the Masdar program: Shams 1 (in operation) – a 100 MW CSP plant and Noor 1 (in preparation) – a 100 MW PV plant. In Dubai, the initial stage of Sheikh Maktoum's 13 MW PV project has already been built and phase II (100 MW as mentioned above) is underway, with a final goal of 1,000 MW by 2030.
Contact Apricum to discuss opportunities for your business in GCC countries
Find out how Apricum can assist you in entering the renewable energy sector in the Gulf region, whether identifying the most attractive market for your company, assessing applicable technologies and products, developing competitive business models, or bringing you together with the most suitable partner company.
Contact James Kurz, senior consultant: kurz@apricum-group.com
---
[1] The Cooperation Council for the Arab States of the Gulf, known as the Gulf Cooperation Council, is an economic and political union of countries in the Gulf region made up of Bahrain, Kuwait, Oman, Qatar, Saudi Arabia and the UAE.