There are reasons to believe the relationship between oil prices and renewable energy development is weakening
From solar and wind to hydro, GCC countries are home to some of the world's best renewable energy conditions
Volatile oil and gas prices have major effects on the national budgets of natural resource-rich countries in the GCC. Before the pandemic-driven plunge in oil prices in 2020, the share of fuel exports within all merchandise exports was 94% for Kuwait, 89% for Qatar, 80% for Saudi Arabia and 78% for the UAE[1].
"It is time to stop linking oil prices directly with renewable energy development in the GCC."
Effect of high oil prices on renewables

High oil prices theoretically should work in favor of renewable energy deployment for three main reasons. First, high oil prices increase the price of electricity in countries where the electricity grid runs primarily on fossil fuels. High electricity prices make renewable sources more competitive for electricity generation. Second, the high budget surplus that governments obtain from high oil prices provides ample capital that can fund not only renewable energy projects but also R&D activities. Finally, high oil prices increase the opportunity cost of oil, and producer economies have a higher incentive to sell it rather than use it internally. Renewable energy comes in handy to replace the fossil fuels burned domestically.
Is there a link between oil prices and renewable energy development?

While high oil prices create a positive outlook for renewables in the region, how true is the opposite? Would a downturn in oil prices significantly hinder the plans for renewable energy? Are the oil prices the only factor that affects how much the countries in the region will invest? In our article, we will discuss whether the renewable energy outlook is as bright with volatile oil prices.
There are reasons to believe the tie between oil prices and the path forward for renewable energy is weakening. A combination of geographical advantages, national priorities, and the threat of climate change makes the expansion of renewable energy inevitable.
The GCC region is blessed with both renewable energy potential on par with its natural resources underground. GCC countries are among the highest solar irradiated countries in the world (with an average theoretical potential of up to 6 kWh/m2/day[2]) with low seasonal effects. This in turn translates into a record low cost for solar electricity. The story is not very different for wind potential. The southern shores of Oman and the western regions of Saudi Arabia are home to wind speeds equal to those found in northern Europe – exceeding 1,000 W/m2 average power density at 100m altitude[3]. Finally, the region's access to water enables it to plan giga-scale green hydrogen projects to leverage its abundant renewable resources and hydrocarbon know-how to provide clean fuel to global demand centers. The region is optimally located to benefit from renewable resources and make use of cheap abundant solar and wind power over fossil fuel-based conventional electricity generation.
It is well known that oil-rich countries are preparing to diversify their economies away from being solely dependent on oil revenues. One prominent example is the Vision2030 by Saudi Arabia: the Kingdom not only plans to support large-scale renewable energy projects but also aims to flourish its local renewable energy industry by producing equipment and services throughout the value chain via localization requirements. The role of renewable energy in diversification is also evident in the investments made by the sovereign investment funds of the region. PIF of Saudi Arabia, ADIA and ICD of UAE, and QIA of Qatar all have made several investments in the cleantech industry.
With the next two COP meetings being hosted in MENA (2022 Egypt and 2023 UAE), many of the countries in the region have revealed decarbonization pledges as well as ambitious renewable energy targets. October 2021 witnessed the announcement of net-zero targets by 2050 from UAE and by 2060 from Saudi Arabia and Bahrain authorities. UAE and Saudi Arabia have also announced plans to source 50% of their electricity from clean energy sources. Continuous multi-hundred megawatt-scale renewable energy auctions and signed power purchase agreements, even during low oil price periods, show that the outlook of renewable energy in the region is bright regardless of oil prices.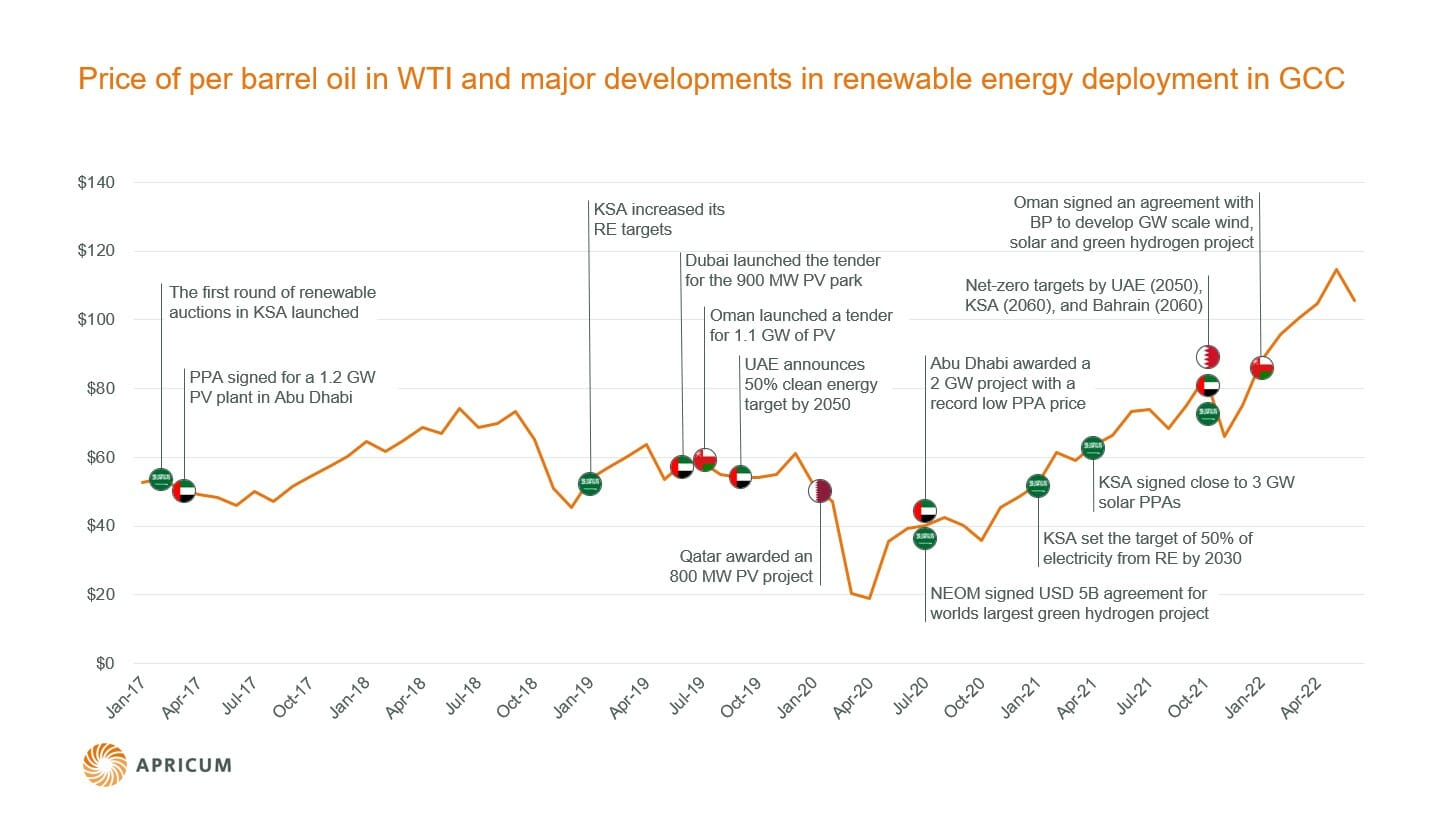 Click image to enlarge
Limiting factors on renewable energy deployment

Deployment of renewable energy has been slower than expected in the region. The use of fossil fuels (in particular low-cost diesel) has been historically subsidized in the region as a form of revenue sharing with the public, which incentivized the use of generators for electricity supply and limited the rooftop PV market.
Many countries in the region started taking steps to limit the subsidies for fossil fuels leading consumer prices to reflect global prices more. Another major factor has been the increase in raw materials and transportation costs post-Covid, causing an increase in solar PV system prices after decades of continuous decrease. Projects at various stages of development found themselves in a position where it was impossible to survive on the earlier promised off-take prices with today's costs and had to delay project construction. Raw materials like aluminum, polysilicon, and glass have already shown early signs of price decrease and PV system prices are expected to decline again as the effects of supply chain issues gradually alleviate. Hence, the two main reasons which limited the growth of renewable energy deployment are expected to ease in the following years.
What could the world learn from renewable energy development in the GCC?

In the GCC, we have found three factors that have supported the development of renewables, regardless of oil price volatility, geographical position or political system:
Leadership support: Clear support from authorities to adopt renewable energy is vital for the market to thrive. Support for change from the leadership helps market participants strategize long-term and creates the required safety for venturing into emerging technologies. Leaders in GCC countries have continuously repeated support for clean technologies and announced national targets for renewable energy deployment.
Streamlined awarding of renewable projects: Countries in the region have developed efficient processes for large-scale renewable projects. Through both auctions and direct bilateral agreements, project developers are selected with pre-determined project sites and capacities. Fast decision-making in the region helps the materialization of mega-projects like the 1.2 GW Sweihan PV project or the signing of PPAs for several projects at once totaling 3 GWp in capacity in Saudi Arabia.
Renewables ecosystem beyond projects: There is heavy emphasis in the region to not only develop renewable energy projects on a standalone basis, but to also create the industry and services which will form the renewable ecosystem. Financing support for local players, local content requirements, partnerships with universities, sovereign funds' investments and technology transfers while simultaneously building domestic know-how are examples of such actions.
It is time to stop linking oil prices directly with renewable energy development in the GCC. While it is correct that a period of soaring prices can have a positive impact in the short and medium term, the overall outlook of renewable energy is a positive one regardless of where oil prices stand. GCC countries have great conditions for becoming leading markets for solar, wind, and green hydrogen not only as technology importers but also as technology developers with their investments in pilot projects and R&D projects.
[1] World Bank
[2] World Bank
[3] Technical University of Denmark and World Bank