While solar has experienced a bumpy ride over the last decade, we now stand at the beginning of a new dawn in Europe for solar PV. A sense of urgency to tackle climate change is finally pervading among corporates as well as individuals with governments beginning to act accordingly. Unprecedented growth rates will continue, however, they will have a much more sustainable trajectory driven by a combination of sound economics, climate targets, regulatory incentives and demand at both commercial & industrial and residential levels. Apricum's in-house team of experts produce quarterly PV market forecasts that chart this growth. In this article, we discuss the key factors driving solar growth in Europe, giving rise to an optimistic view for the industry looking forward.
The past decade was a roller coaster ride for Europe's PV industry
In the late 2000s, solar experienced a short-lived boom due to the introduction of high feed-in-tariffs (FiTs) in selected markets (e.g., Germany, Spain) that provided PV projects with guaranteed remuneration for electricity generated. However, the industry declined afterwards as some governments turned their backs on solar. Spain lowered its FiT and in 2015, introduced its infamous "sun tax" on self-consumption. In 2016, the UK slashed its FiTs by 65% and closed its renewables obligation scheme for new generating plants. Then, at the turn of the decade, a new era of solar PV in Europe began. The continent witnessed an unexpected demand in growth of >100% in 2019 and achieved growth even in the pandemic year of 2020.
A new decade of unprecedented European solar growth has begun
Unlike the boom at the start of the decade, Apricum believes that the necessary elements are in place to foster a new and sustained phase of accelerated PV growth in the region, which will give rise to ample business opportunities. Solar is here to stay. We have therefore introduced the "Apricum inflection point scenario" – a revised forecast that captures this more optimistic view of the market (see Figure 1). Four factors driving solar growth in our inflection point scenario:
1. Solar is an independent business case in most markets due to improved solar economics
Solar panel prices have plummeted by ~90% since 2010 due to technological improvements and economies of scale. ITRPV has seen an increase in the PV module learning curve[1] from 23.5% in 1976–2019 to 40.0% in 2006–2019. PV systems have become more efficient as high-tech products are becoming increasingly mainstream – e.g., bifacial modules, PERC, heterojunction technology. In many markets, solar has become an independent business case, being the most competitive source of electricity. As a result, in several countries, large-scale subsidy-free projects have also started to take off.
2. Climate and renewable energy targets become more stringent
There is an urgency to catch up on missed targets. In 2009, the European Union enacted the "2020 package", which included a target to source 20% of energy from renewables by 2020. And although renewables represented 19.7% of the EU-27's energy consumption in 2019, individual targets have not been met in several countries[2] – including France, Ireland and the Netherlands. On top of this, the EU has set even more ambitious targets. At the end of 2020, the EU agreed to increase the domestic emission targets for 2030 aiming at a net reduction of "at least 55%" from 1990 levels. The EU's previous target was "at least 40%". Additionally, in 2019, the EU passed the "Clean Energy for All Europeans" package, which included national energy and climate plans (NECPs). Almost all EU countries have indicated solar targets in their NECPs – including intermediate and post-2030 goals.
3. Market incentives change but continue to strengthen the case for PV
As solar becomes more cost-competitive, Apricum sees a trend away from feed-in-tariffs towards self-consumption. However, solar will continue to be boosted by government tenders (e.g., pay-as-bid RE tender in Spain held in January 2021, "SDE++" scheme in the Netherlands). Other support schemes are also present. Poland's "Moj Prad" program subsidizing rooftop PV enabled the residential segment to grow ~20x from 2018 to 2019. As part of its COVID recovery measures, Italy introduced a 110% tax break for rooftop PV linked to building renovations until 2022. And the list goes on…
4. Citizens and corporations drive solar demand autonomously
There is an undeniable increase in climate change awareness at both individual and corporate levels. The rise in e-mobility and energy storage contributes to higher residential PV demand. Meanwhile, several corporations have set ambitious targets (at times more stringent than government targets) and are taking action. Over 1,000 companies globally have set emission reduction targets through the Science Based Targets initiative (SBTi), including European energy giants EDF, Enel, E.ON and Vattenfall – and many are following suit. Facing increasing pressure from the public, some pension funds (e.g., UK's NEST) and large insurance companies (e.g., AXA, Allianz and Swiss Re) have also begun divestment in fossil fuel / carbon-intensive companies.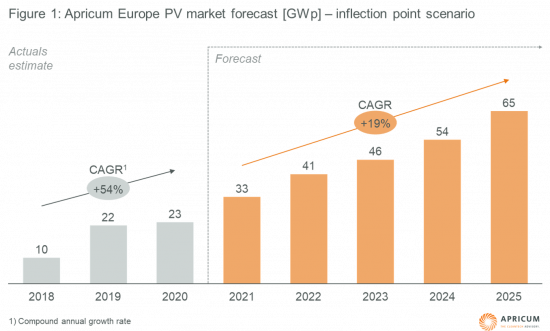 [1] Decrease in prices with doubling of installed capacity [2] As of 2019
Deep dive: What are Apricum's best practices for increasing the accuracy of forecasts?
At a global level, the PV industry experienced strong growth in 2020 with an annual installed capacity of ~136 GWp in 2020. The cumulative installed PV capacity grew from ~44 GWp in 2010 to >1,000 GWp in 2020. Growth was often higher than predicted by renowned industry forecasters. Retrospectively, Apricum's high-end scenario, often predicted growth more accurately than the center scenario. Deviations from actuals were as low as 7% in recent years.
What does it take, though, to develop the expertise to enable good forecasting in a rapidly changing environment? Nobel laureate and behavioral economist Daniel Kahneman describes three prerequisites for developing such expertise: Regularity, opportunities to learn and rapid feedback. Let us expand on each of these in turn.
Regularity – A stable and rule-based environment The solar industry's growth may not yet be described as stable. Hence, keeping up to speed with the latest developments and constantly building industry knowledge is essential to understanding the PV industry paradigm and the underlying drivers. The Apricum team consists of PV industry experts who not only keep track of recent industry and market events but also continuously gain further insights through solving client problems in global engagements across the PV industry value chain.
Opportunities to learn – Creating as many as possible The Apricum PV market model has provided global forecasts on a regular basis for well over 10 years. Each of the forecasting team members has dedicated focus markets in which they develop market-specific expertise.
Rapid feedback – Evaluating performance and incorporating lessons learned Critically evaluating actuals with historical forecasts is considered an essential practice for preparing robust future forecasts. Challenge sessions in the forecasting team (including external experts to get alternative perspectives) are common practice and help to cross-check and calibrate the results; multiple perspectives tend to lead to better results after all.
The rebirth of European PV manufacturing
Europe's solar renaissance does not stop with increasing demand. We also see an increase in European manufacturing capacity. This month, the European Commission also published a revised industrial strategy including a commitment to reignite Europe's solar manufacturing sector. The EC is also backing the European Solar Initiative (ESI) by SolarPower Europe and EIT InnoEnergy, whose goal is to build a European solar value chain – from raw materials to recycling. As a proof point, in 2020, Meyer Burger successfully completed a strategic repositioning and secured a CHF 165M capital increase with Apricum's support. Its transition from a PV equipment manufacturer to solar cell and module producer is well on track. Its production facilities in Germany are to be opened end of May with production commencing in June using materials sourced locally. An initial nominal production capacity of 400 MW per annum is planned – increasing to 5 GW by 2026.
Apricum applies market and industry insights and foresight to help bring your organization forward
Apricum regularly updates its proprietary European (and global) PV market forecast and uses this, together with in-depth industry knowledge, as a basis to provide its clients with tailored insights into various industry and market (sub)segments. Apricum provides support across a variety of engagements – from market analysis to growth strategy development and beyond. With longstanding experience in the European PV industry and proven track record in management consulting and financial advisory, Apricum is uniquely positioned to support clients in creating strategic solutions and optimal transactions. For enquiries, please contact Apricum Project Principal Erik Klaassen.