With all the impressive projects and gigawatt hours of energy storage being deployed in the big markets like the USA, China, and Europe, it's easy to forget that energy storage is actually a global phenomenon.
While each market might be different, they all share similarities. For example, no matter where in the world you operate, the key purpose of nearly every energy storage solution is to provide flexibility. This key demand exists wherever and whenever there is a need to mitigate or manage the impact of variable renewable energy, deal with a mismatch between power demand and supply, or increase the resiliency of a power system.
So, with this in mind, let's compare some of the globe's more interesting, but lesser-known energy markets and gauge their potential value. The focus lies on the South-East Asian and Latin American regions.
"We need to bear in mind that how energy storage is applied depends on the individual needs of a specific country – when in Rome, do as the Romans do."
The Philippines: Southeast Asia's front runner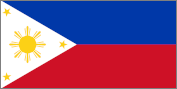 The Philippines has already outlined their specific targets for renewable energy. According to their National Renewable Energy Program announced at the end of last year, the country expects to have a 35% share of renewable energy by 2030 and as much as 50% by 2040 plus a moratorium on new coal power investments that should result in gigawatts of variable wind and solar power generation – and energy storage to ensure a smooth grid integration. This is particularly important when considering the limited connectivity of individual networks in a country that is made of 7,642 separate islands.
Storage market: To date, we have seen a strong focus on standalone energy storage. In the central Philippines, the San Miguel Corporation (SMC), one of the country's largest and most diversified conglomerates is already in the advanced stages of realizing their ambition to build a 1GW/1GWh pipeline with the help of industry heavyweights like Fluence, ABB, and Wärtsilä. By June 30 2022, SMC had reached the halfway point of this rollout.
In addition, local energy company Aboitiz Power Corp aims to have 248 MW installed across 12 sites over the next ten years.
However, more recently there are increasing activities around PV-plus-storage as well.
In early June, local billionaire Enrique K. Razon announced the construction of a 2.5-3.5 GW photovoltaic plant combined with a 4-4.5 GWh battery storage installation that would be one of the biggest in the world. It would be realized through a JV called Terra Solar to provide mid-merit power.
And already earlier this year the Philippine's first-ever PV-plus-storage plant was switched on, pairing a 40MW/60MWh battery with the 120MW Alaminos Solar power plant. In parallel, the World Bank's IFC and AbotizPower are assessing the possibilities of providing baseload with this kind of hybrid plant.
Outlook: In summary the outlook for energy storage deployment in the Philippines is quite strong. There is a strong need for flexibility based on the renewables expansion and a multitude of battery energy storage systems projects already completed.
Chile: Latin America's front runner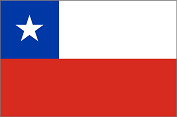 In Latin America, Chile has announced renewable energy goals even more ambitious than that of the Philippines. This nation of 17 million people is targeting 100% renewables in its electricity sector by 2050 and at least 60% by 2035. In addition, it has committed to phasing out coal generation before 2040 and displacing renewable energy with electricity based on natural gas has actually been forbidden since 2021.
So expansive and arid that it's been used for Mars expedition simulations, Chile's Atacama Desert region is a solar energy generation powerhouse and shows peak/off-peak power price spread that suggests merchant trading of electricity on the wholesale market.
In the usually heavily oversubscribed renewables auctions, hybrid projects involving energy storage are entitled to participate and create additional demand.
Storage market: The Chilean renewable storage market focuses on hybrid renewables-plus-storage systems with a variety of projects already being realized.
One is IPP Innergex Renewable Energy's order for two battery energy storage systems from Mitsubishi Power Americas for use in their 68MW Salvador solar photovoltaic facility (50MW/250MWh of storage) and the 51MW Andrés site (35MW/175MWh of storage). Furthermore, AES is building a 112MW/560MWh BESS (supplied by Fluence) paired with 253MW of renewable energy generation. Once complete, it will be Latin America's largest battery energy storage system to date. Another example is Statkraft Chile realizing a 400MW wind-plus-storage facility in Taltal.
Activity is not limited to front-of-the-meter installations only: Stem Inc. has developed South America's first virtual power plant for which it will combine solar, wind and energy storage with a total targeted capacity of 1.5GW, comprising distributed behind-meter-facilities between 0.5 and 2MWh of storage capacity.
Beyond batteries, Highview Enlasa, a 50/50 owned JV between UK-headquartered liquid air energy storage technology provider Highview Power, and Chilean backup power generation company Energia Latina SA, is planning a 50MW/500MWh project also in the Atacama region.
Outlook: In short, the outlook in Chile is strong, due to a variety of drivers and an impressive, credible pipeline. Seemingly more technology agnostic than other regions, Chile also offers interesting opportunities for non-battery players.
Indonesia: The outsourced power plant
Next to the Philippines, Indonesia is another South-East Asian player that offers and interesting market. Several JVs have been announced between international and local power producers seeking to deploy renewable energy and storage assets to export electricity via sub-sea cables to its neighbor the space-constrained Singapore. Furthermore, a vibrant off-grid mining segment is creating opportunities for storage in microgrid applications.
Storage market: Indonesia's largest projects are photovoltaic-plus-storage for export purposes. A good example is Ib Vogt GmbH (Germany) and Quantum Power Asia's (Indonesia) 3.5GW renewables and 12GWh storage system that was recently announced. With completion slated for 2032, the facility will reduce reliance on liquified natural gas by providing 4TWh or up to 8% of neighboring Singapore's annual electricity needs. Another project to supply energy to Singapore from Indonesia is a plan between UAE's Masdar, Singapore's Tuas Power, French EDF and Indonesian PT to provide 1.2GW of solar with the potential for storage. Finally, there is ACEN, the Philippines-based Ayala Group´s energy platform that is collaborating with Indonesia´s Puri Usaha Group to develop solar, battery energy storage in addition to producing green hydrogen.
Next to battery energy solutions, it has to be noted that Indonesia´s current storage pipeline focuses mostly on pumped hydro, totaling more than 4GW.
Outlook: Indonesia`s overall outlook as a storage market is good as clean energy demand from Singapore keeps driving the need for renewables in Indonesia and energy storage is well suited to optimize utilization of export cables, amongst other use cases it can also address.
Vietnam: The sleeping giant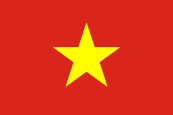 In just one year, 16GW of solar energy has been deployed in Vietnam under a commercial feed-in-tariff program that was originally aiming for just 850 MW. Energy storage would be urgently needed for grid integration and avoiding curtailment for example by performing ramp rate control, frequency response, transmission and distribution grid infrastructure investment deferral or to time-shift energy from daytime when production is abundant, to evening peak times, when it is not.
Storage market: Despite strong drivers, the country's latest National Power Development Plan does not include energy storage. There are only a few storage pilots so far, mostly running on foreign grants, such as a 15MW / 7.5MWh battery energy storage system which is paired with a 50MW solar farm in Vietnam's Khanh Hoa Province.
Outlook: Right now, Vietnam´s energy storage outlook remains unclear. While strong fundamentals are in place, Vietnams is still lacking the supportive policies or regulatory mechanisms, which means that industry players must proactively educate market regulators and grid operators about energy storage and the best ways to facilitate its role in their energy systems. However, that challenge can also be seen as an opportunity, making Vietnam an interesting regional player to keep an eye on as it develops.
Mexico: The behind-the-meter opportunity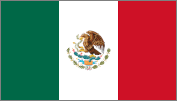 One of Mexico's key market drivers is electricity tariffs based on time-of-use during the day, as well as demand charges, which incur higher costs for use of power from the grid during peak times. This arrangement creates a power bill reduction opportunity for commercial and industrial electricity customers.
Storage market: Difficulties around interconnection agreements and mandatory generation licenses are holding back Mexico`s front-of-the-meter energy storage market. However, there are opportunities for storage players to focus on behind-the-meter opportunities for commercial and industrial customers. This includes the possibility to apply innovative business models: Fotowatio Renewable Ventures (FRV), US-based energy analytics and software company Energy Toolbase, and Mexican developer Ecopulse are offering 480kW/960kWh systems based on an energy-as-a-service, no-money-down business model.
Outlook: Right now, we judge Mexico's storage market potential as low for front-of-the-meter deployments due to the relatively low penetration of renewable energy and lack of political will to expand compounded by underdeveloped frameworks for integrating energy storage to the grid. However, the outlook for behind-the-meter deployments is medium-high due to unreliable power supply and favorable tariff structures.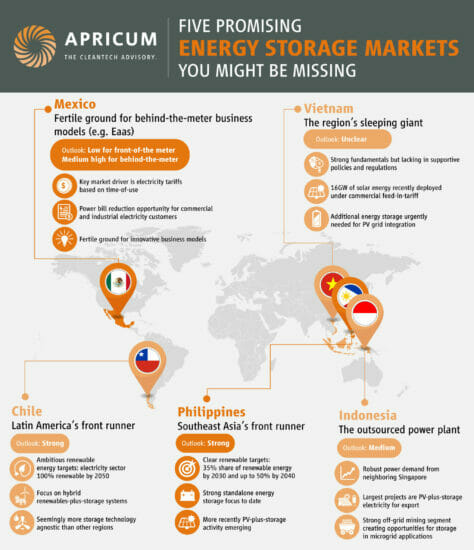 (click to enlarge)
Summary
All around the world energy storage is an increasingly attractive option to provide flexibility and is thereby a key enabler for the continued expansion of renewable energy and a reliable power supply – and this includes lesser-known local players. Yet we need to bear in mind that how energy storage is applied depends on the individual needs of a specific country – when in Rome, do as the Romans do.
The outlook for storage deployments depends largely on the status of local regulatory frameworks and access for storage to monetization schemes (e.g. wholesale and flexibility markets or tenders). However, over time and guided by local frontrunners, the barriers that are currently preventing storage from adding its merits in emerging countries will eventually be removed – as it was, and is still happening, in today's dominating storage markets like the US and Europe as well.
Apricum is a global transaction and strategy advisory firm dedicated to renewable energy and cleantech. We offer the alternative energy industry an integrated suite of growth-oriented consulting services for companies and investors. Backed up by the energy storage field's top minds, deep local networks, and proven financial experience, we can maximize the value of your participation in the global energy market. Let us prepare and execute your next business transaction or design a specialized high-impact business model that drives the energy transition while creating growth and profitability for your organization and its stakeholders.