Oct 12, 2017: Article updated to include a reference to CSP with storage
The global market for stationary battery energy storage is set to experience tremendous growth by 2025 of about 30 times its current size. This is expected to come mainly from the "usual suspects" such as the USA, China, India and Western Europe.
But what about other geographies that are not yet on the radar of the storage industry, but still have the potential to become substantial contributors to this future global growth? We expect the MENA region will surely be among them. Before we take a closer look to find out why, let's review the necessary conditions for such growth.
The three prerequisites for energy storage market growth
When assessing the energy storage growth potential of a specific market, Apricum typically examines three key prerequisites:
Demand: First of all, there obviously needs to be a demand for services that energy storage – but also non-storage solutions – can principally serve. This can involve demand for increased power system flexibility, for power infrastructure expansions, for optimization of power sources or for an adequate quality of power supply.
Competitiveness: This demand could be addressed by non-storage solutions as well; therefore, energy storage needs to be competitive with alternatives. As well as ensuring that the technology actually works, the most competitive solution is typically the one that features the lowest costs over its lifetime.
Frameworks: Energy storage needs to be allowed to play to its competitive advantages. Hence, adequate frameworks need to be in place that provide unrestricted market access, avoid one-sided privileges such as subsidies, and allow for the overall bankability of energy storage deployments.
So how does the MENA region perform according to these three prerequisites?
Demand: Renewable energy integration will drive the need for energy storage
Demand for energy storage is reflected in specific use cases, i.e., how energy storage is used to generate value. To address these, the energy storage system can be located centrally (in front of the meter) or distributed (behind the meter) and adds value both on the supply and demand side of a power system as shown in Figure 1 below.
Figure 1: Structured overview of energy storage use cases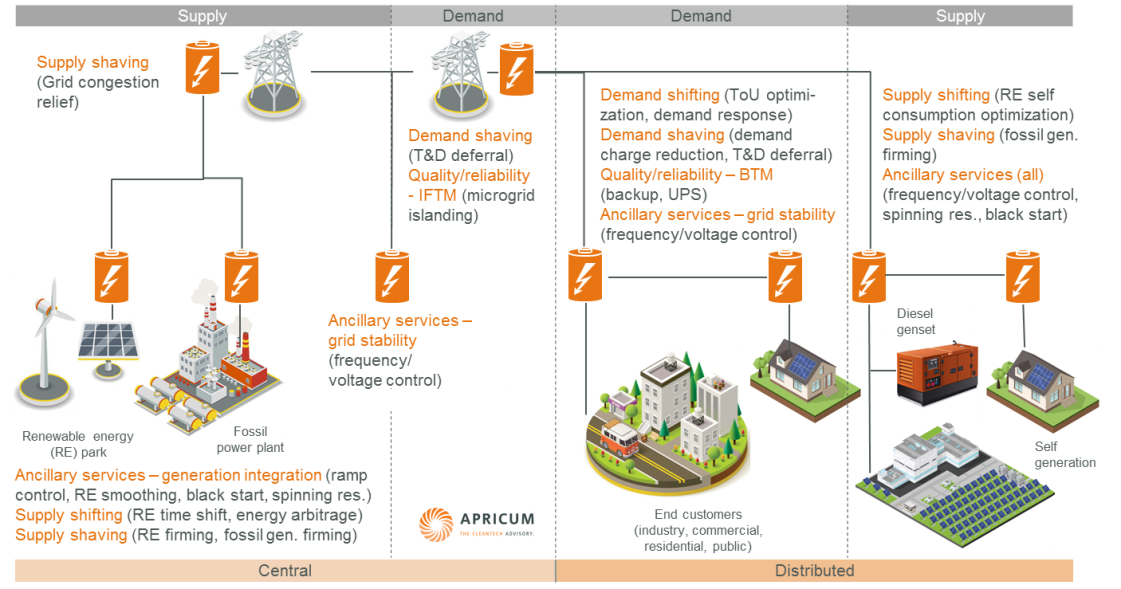 Source: Apricum
Demand for energy storage and related use cases depends on the individual challenges faced by a specific power system. The dominating demand driver for storage in the MENA region, therefore, is definitely the vast upcoming expansion of renewable energy in the UAE, Saudi Arabia, Egypt, Morocco and other MENA countries, with cumulated installations expected to reach around 19 GW of PV and 7 GW of wind over the next four years.
Consequently, announced energy storage projects in MENA will predominantly address use cases dealing with the integration of renewable energy capacities. This can be achieved, for example, by limiting the up and down ramp rates of PV or offering "grid congestion relief" to avoid temporary bottlenecks, e.g., at substations next to multiple PV parks. In addition, long-duration energy storage could shift the majority of the power generated during the day forward – enabling a PV or CSP plant to deliver electricity during the night.
Figure 2: Overview of use cases that will become most relevant in the MENA region short-term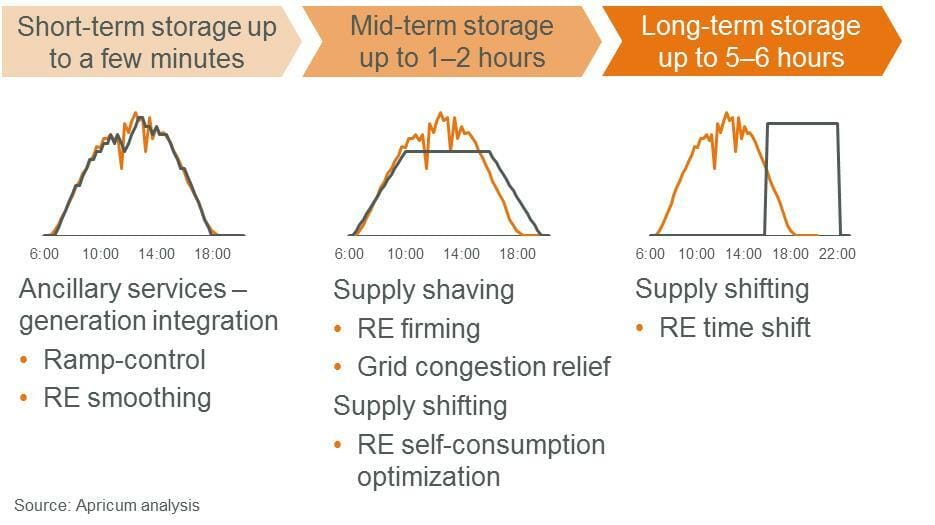 The first storage installations related to renewable energy can already be found in Abu Dhabi (about 48 MW of NaS batteries through ADWEA) and in Morocco (465 MW of pumped storage as well as 160 MW of CSP with 3 hours thermal storage). As renewable energy generation in MENA is mainly realized through central utility-scale deployments, announced storage projects are consequently located in front of the meter. However, opportunities for distributed energy storage exist as well, as demonstrated by Enerwhere's recently completed hybrid generation system at a construction site in Dubai, which features solar panels, bio diesel generators and a 100 kW/200 kWh Li-ion battery to reduce costs and improve reliability of the site's power supply.
It is worth pointing out that on top of supporting the integration of renewable energy, energy storage is expected to increasingly add value in pure conventional generation setups in MENA as well, for example, by allowing a fossil generation plant to follow the most efficient generation profile and by offering ancillary services for grid stabilization at the same time.
Competitiveness: Falling costs of both energy storage systems and renewables improve the case for storage
Energy storage costs have declined over the last few years and will continue to do so. According to Apricum's estimates, Li-ion battery system prices will more than halve to approximately 200 USD/kWh between now and 2025, mainly driven by economies of scale through the steeply rising production of batteries for the e-mobility sector and technological improvements.
While cost declines are rapidly increasing the competitiveness of energy storage around the world, the MENA region has a particular advantage: the already incredibly low costs of PV-based power production. With LCOE below 3 USD-cents per kWh already realized in Abu Dhabi and Dubai – and potentially even below 2 USD-cents in Saudi Arabia, a PV plant can add energy storage and still offer electricity at a competitive (combined) price in a growing number of settings with sufficiently high costs of alternatives. This is especially compelling when taking into account that more PV power can then be sold (e.g., by avoiding grid congestion) and at peak prices during the evening hours.
Next to PV and wind installations, Concentrated Solar Power (CSP) is an important renewable energy source in MENA.  Instead of batteries, thermal energy storage is usually integrated in the CSP plant to address the use case of long-duration RE time shift. This enables solar power delivery during night hours at low combined prices, as very recently demonstrated by the 7.3 USD-cents/kWh contract between DEWA and Acwa Power. It has to be noted that this price, however, is related to what will be the world's largest CSP installation (700 MW) with an upfront investment of almost USD 4 billion – and a 35 year PPA.
Frameworks: First positive examples emerging
Very recently, Jordan's ministry of energy and mineral resources (MEMR) released a request for expression of interest (REOI) for a 30 MW/60 MWh stand-alone energy storage project, which is remunerated via a 15 year capacity lease agreement. Also in Jordan at about the same time, the Irbid District Electricity Company signed a PPA with Philadelphia Solar for a 4 MW / 12 MWh battery linked to the expansion of its existing solar park.
These are the first examples of how commercial, bankable frameworks for energy storage could look in the MENA region. If successfully executed, resulting low-cost PPAs are the best proof of concept, which can trigger similar frameworks also in neighboring countries – as was the case with PV a few years back. It should be noted, however, that the specific situation in Jordan with 97% of imported energy and a rather ailing grid infrastructure is of course a perfect hotbed for renewables plus storage solutions, which is not the case in all MENA countries to the same extent.
Summary: MENA is set for significant energy storage deployment
The key prerequisites for energy storage growth are increasingly materializing in the MENA region, which naturally vary from country to country. As demand is growing and competitiveness is improving, authorities and the private sector are increasingly acknowledging the benefits energy storage can bring and offering frameworks for bankable and fair access to the energy market.
Overall, it's not a question of "if", but of "when" MENA will play a substantial role in the energy storage world.
For questions or comments, please contact Apricum Partner Florian Mayr.