The Association of Southeast Asian Nations or ASEAN is a political and economic organization of ten Southeast Asian countries. Formed in 1967 by Indonesia, Malaysia, the Philippines, Singapore and Thailand, membership has since expanded to include Brunei, Cambodia, Laos, Myanmar and Vietnam. Covering more than 4.5 million square kilometres and comprising a population of more than 600 million people, ASEAN is about the size of the European Union. But these are probably the only similarities the two economic unions share.
While the EU currently has more economic power, is further developed and is a politically more integrated trade zone, when it comes to GDP growth, ASEAN, is by far the more dynamic. For the last five years, its annual GDP growth averaged around 6%. In 2015, the organization's combined nominal GDP had grown to more than USD 2.6 trillion. If ASEAN were a single entity, it would rank as the seventh largest economy in the world behind the USA, China, Japan, Germany, France and the United Kingdom. With such economic growth levels expected to continue, ASEAN is fast becoming a major economic force in Asia and a driver of global growth.
Energy-related challenges driving renewable energy growth
Installing sufficient additional power generation capacity is one of the most pressing issues for ASEAN countries to solve. Despite the rapid economic development, many parts of ASEAN remain under-electrified – 160 million of its people still do not have access to electricity today. For those that do, prices of grid electricity are high at 0.18 USD/kWh or more in some markets.
The insufficient power generation structures currently in ASEAN are characterized by their strong reliance on fossil sources, such as natural gas, coal and oil, and the absence of nuclear power. ASEAN, one of the regions with the strongest growth in CO2 emissions in the last decade is also the region expected to experience some of the most harmful effects of climate change – more intensive storms, variable precipitation, a rise in sea levels, as well as more severe droughts and floods.
Like many emerging economies with sizeable populations, ASEAN must solve numerous economic and energy-related challenges such as providing sufficient energy services, improving industrial productivity and reducing poverty, and on top of that, adapting to global warming. As a result, ASEAN is increasingly turning to renewable energy.
Renewable energy: Immense potential, sound economics and extensive rollout underway
Rather than transitioning from existing, reliable and adequate fossil and nuclear energy infrastructure towards renewable energy sources driven by political will, as we have experienced in developed markets such as Europe, the USA or Japan, renewable investments in Southeast Asia are first and foremost driven by the need to increase energy capacity. Happily, ASEAN's excellent natural resources coincide very well with this objective.
The most common and historically advanced form of renewable energy has been hydroelectric power, most prominently from the lower Mekong River, which flows through or along the borders of Myanmar, Laos, Thailand, Cambodia and Vietnam. In the lower Mekong, more than 3,235 MW has been realized via facilities built largely over the past ten years, while projects under construction represent an additional 3,209 MW. A further 134 projects are planned for the lower Mekong, which will effectively exhaust the river's hydropower generating capacity. Although the overall hydroelectric potential of the region is estimated to range between 170 GW to 250 GW, there are major concerns about the environmental impacts of damming the Mekong River system and other rivers in Southeast Asia. An independent assessment prepared for the Mekong River Commission recommended a 10 year delay in the current hydroelectric project schedule to evaluate environmental concerns.
The highest geothermal potential of any country in the world with more than 27 GW is in Indonesia. Although ASEAN's largest country by population and economy contains 40 percent of the world's total geothermal reserves, it currently only utilizes five percent of its capacity. The Indonesian government plans to increase its geothermal capacity to 6 GW by the end of this decade. So far its main challenge has been to attract the necessary foreign investment. The current administration has undertaken some reforms to lower the barriers in this regard with the result that Enel Green Power has recently kicked off its 55 MW geothermal development in Indonesia's Lampung province.
Wind energy has been a relatively low priority renewable sector in ASEAN. The region's best wind potential lies to the north in areas of Vietnam, Cambodia, Myanmar, Laos, the Philippines and Thailand. Of these, only the Philippines, Thailand, and Vietnam have started to substantially promote the wind energy sector. The Philippines now has an operational wind energy capacity of 400 MW, more than any other country in Southeast Asia. Vietnam recently – after years of delay – moved towards its announced wind power targets with the long awaited corresponding FiT programme. During the visit of President Obama to Vietnam in May 2016, a MoU with General Electric was signed according to which GE will develop new wind farms with a capacity of 1,000 MW.
The largest and most unlimited potential for ASEAN in renewable energy is, of course, in solar power. With annual solar radiation levels ranging from 1,460 to 1,900 kWh/m2 per year the region has some of the highest yields in the world. Thailand began substantial implementation of solar power in 2011 with an attractive subsidy "adder" scheme. Although Thailand with about 2.8 GW has currently more solar power cumulatively installed than all other ASEAN countries combined, the Philippines is expected to install the most PV this year. However, while Thailand and the Philippines dominate the market today, in just a few short years, four countries will be competing for the title of the top PV market in ASEAN's rapidly growing solar power region, as can be seen in Figure 1.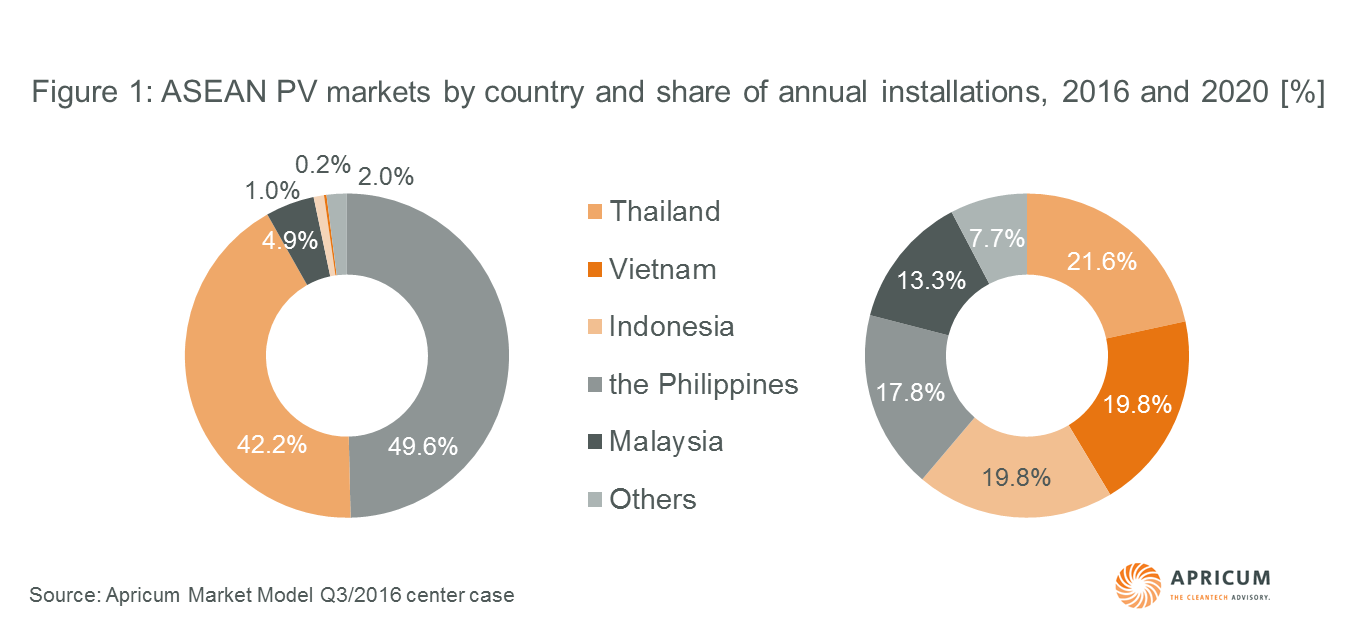 Next to Thailand, Malaysia has run a smaller FiT programme for solar in the last few years amounting to a little over 220 MW up to now and has announced another 250 MW to be approved for FiT by 2020. Most dynamic in the last year, however, has been the Philippine solar market. Driven by attractive FiTs, 800 MW has been built – more than 90% of that within the very short timeframe of Q4/2015 and Q1/2016. Most interestingly, the FiT for projects had to be secured after the project's commissioning and was subject to a 450 MW cap for the FiT capacity. This highlights another big difference to developed RE markets such as Europe and the USA: The market demand for PV is not dependent on a subsidized FiT in the Philippines because of growing demand for electricity and PV's cost competitiveness compared with other power generation options. Project financing has been available in spite of the uncertainty about securing a FiT.
In recent months, both Vietnam and Indonesia announced the implementation of FiT programmes for 850 MW and 250 MW of solar respectively, which are to be carried out in 2016/2017.
Another substantial difference to a developed solar market in for example, Europe or the USA, is the market segmentation. While residential solar represents a substantial share of solar power capacity in markets such as Germany or the USA, in ASEAN, utility-scale solar accounts for more than 95% of all capacity added to the grid. Although there are some initiatives and programmes to enhance residential solar, the market fundamentals of often state-owned national utilities are in favour of utility-scale solar applications in the medium-voltage power-grid sector. Residential has been slow to take off due to low household income, lack of necessary financing for residential applications and shorter amortization expectations by ASEAN customers.
Thailand, the Philippines, Indonesia, Malaysia and Vietnam are the five big markets driving PV development. Combined, they represent 90% of ASEAN's population; they have capacity targets in place and policies taking shape. According to Apricum's high case scenario, over 15 GW of PV capacity is expected to be installed by 2020 in these five markets alone, as illustrated in Figure 2.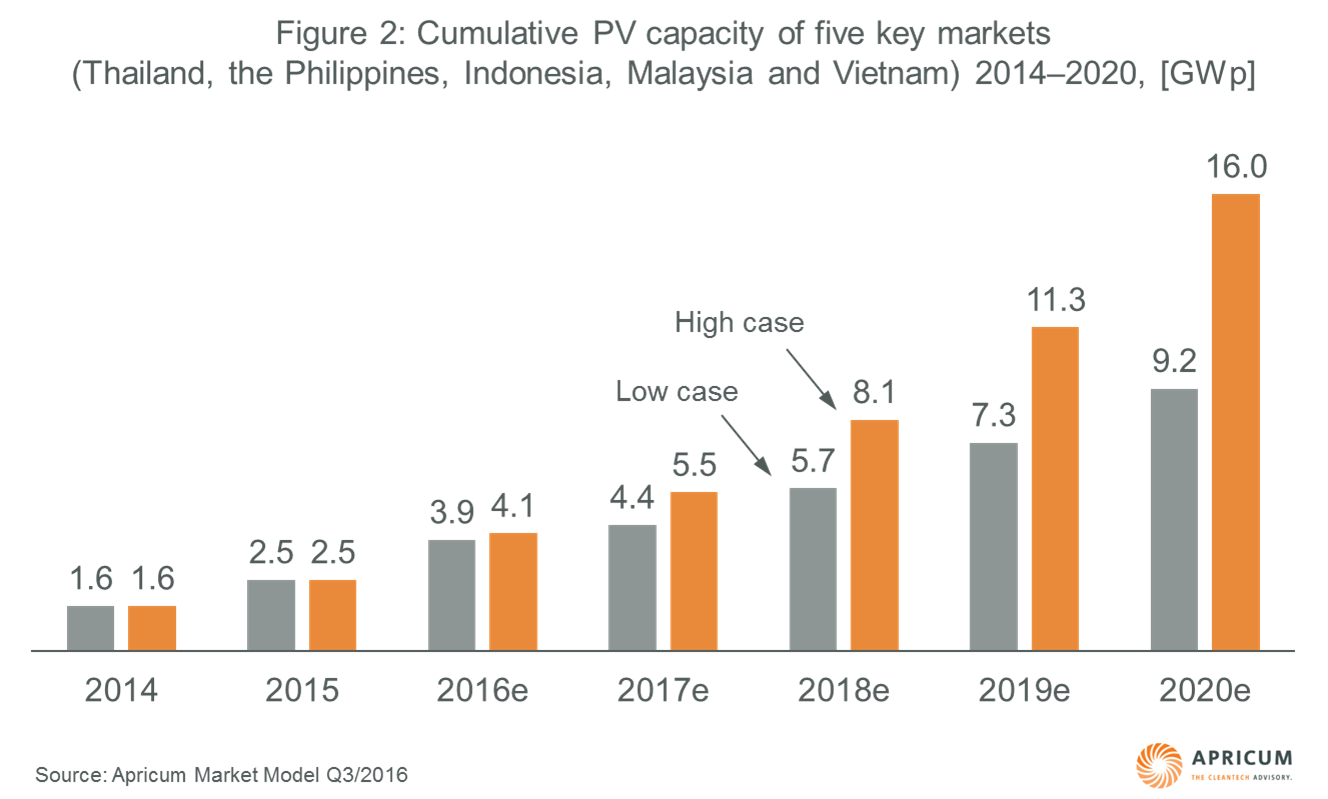 Even though the end of FiTs are in sight, sustainable market conditions are within reach
FiTs in markets such as Thailand and the Philippines have succeeded in opening up the market for solar in these countries, however, as these programmes come to an end, market players must turn towards the natural potential and economics of utility-scale power provision to utilities or commercial off-takers.
Utility-scale solar will compete with mostly LNG or other renewables, rather than with new coal power plants, which face strong public opposition and have recently been subject to political scrutiny. On the commercial off-taker side, renewable generation will need to be competitive with electricity prices (including those that are subsidized in some markets such as Indonesia and Vietnam) from the utility at peak-times or diesel generation on site – which it already is in most cases.
Market entry for international players: Success requires careful preparation and on-the-ground commitment
In contrast to Asian markets such as China or Japan, ASEAN features much lower market-entry barriers for international renewable energy developers, EPCs or financiers. Solar markets such as Thailand and the Philippines demonstrate an almost equal balance between competent new local players and international renewable energy companies who are establishing a strong, even leading, market position.
There are several key factors that are vital for international renewable energy companies wishing to successfully build a business in Southeast Asia. These include time-to-market, the level of commitment to the market, the in-depth understanding of the regulatory environment, the local organizational execution capabilities and the level of integration of the business model.
Apricum offers a range of services to support companies in successfully expanding into new markets. These include identifying the most promising markets, developing business models and entry strategies tailored to these specific markets, finding the most suitable local partners and facilitating local business development.
To learn more about how Apricum can support you in developing your business in the ASEAN countries, please contact Nikolai Dobrott.