Global low-carbon hydrogen demand is expected to grow from ~1 Mt p.a. in 2022 to
20–30 Mt p.a. by 2030
The Gulf Cooperation Council presents one of the most attractive destinations for low-carbon hydrogen production due to its proximity to strategic demand centers and low-cost resource availability
While Oman has announced a green hydrogen strategy, Saudi Arabia and the United Arab Emirates are in the process of developing a broader low-carbon hydrogen strategy
By Director and Head of MENA Krzysztof Ignaciuk, Consultant Saravana Kumar, and Partner and Head of Green Hydrogen Florian Mayr
Global low-carbon hydrogen demand is expected to grow from ~1 Mt p.a. in 2022 to 20 – 30 Mt p.a. by 2030.[1] Currently, most hydrogen demand is met from fossil fuel-based sources, such as coal and natural gas, leaving a large CO2 footprint. Therefore, in support of net-zero pledges, regulations are being framed to restrict the use of fossil fuel-based hydrogen and replace it with low-carbon hydrogen, thereby creating a ~20X greater demand for low-carbon hydrogen by 2030. Besides its use cases in industry and refining, low-carbon hydrogen has the potential to also decarbonize use cases of construction, power, and transportation.
Gulf Cooperation Council (GCC) players can pursue green, blue, and turquoise production simultaneously due to their abundance of low-cost renewables, natural gas reserves, CO2 storage sites, and existing infrastructure.
Low-carbon hydrogen does not necessarily mean zero CO2 footprint
Hydrogen can be classified based on the feedstocks and processes used for its production. While green hydrogen is relevant for decarbonization as a low-carbon solution, blue and turquoise cannot be considered a low-carbon solution per se. The relevance of blue and turquoise hydrogen for decarbonization is subject to coverage of scope three emissions resulting from methane leakages and scope one and two emissions such as CO2 capture rate and CO2 leakages.[2] The EU proposes to consider low-carbon hydrogen as hydrogen with a GHG threshold of 3 kgCO2-eq/kgH2[3] (i.e.,70% emission reduction compared to fossil-based hydrogen). The overall emission footprint of different hydrogen types is shown in Exhibit 1.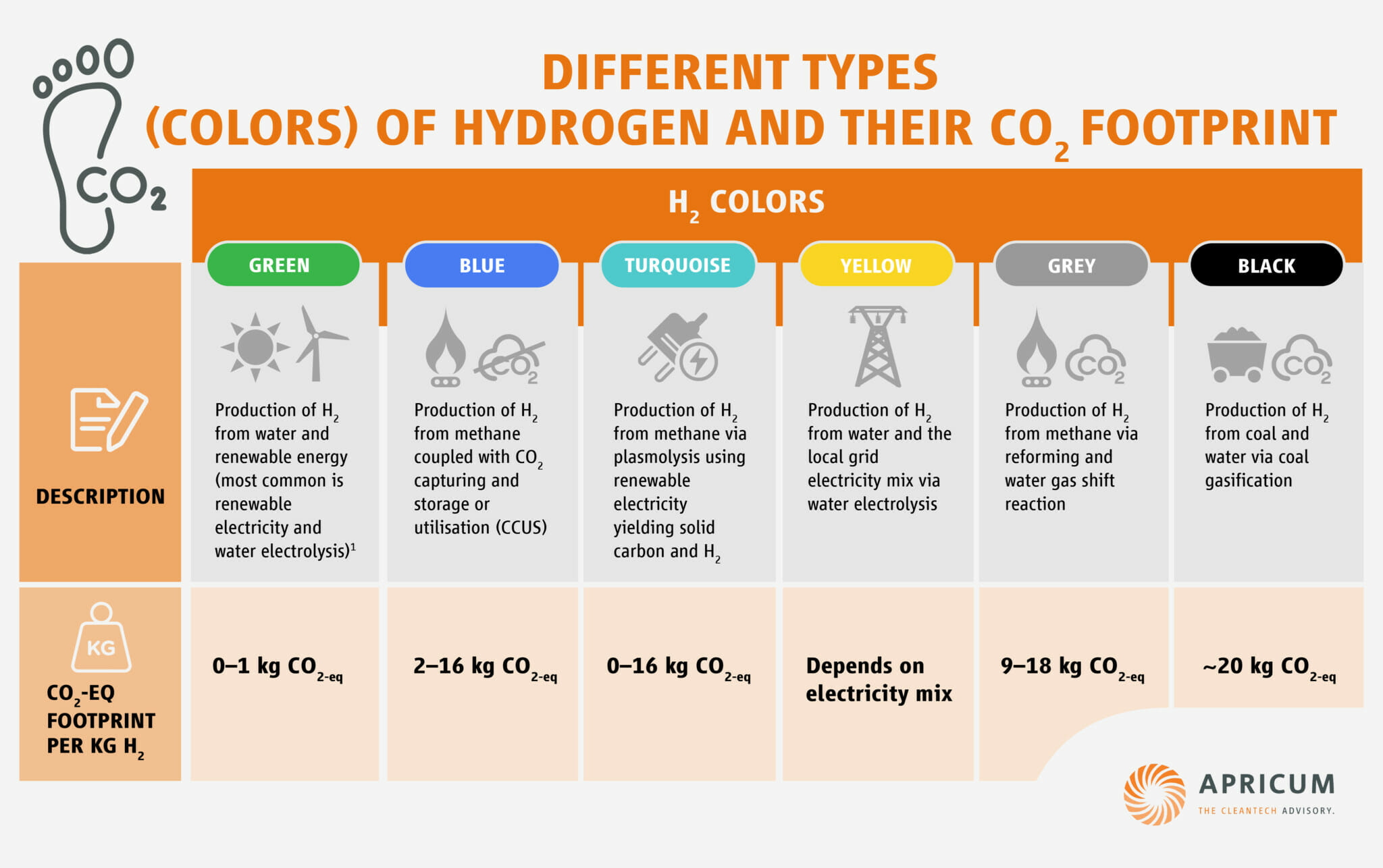 Exhibit 1: Different types (colors) of hydrogen and their CO2 footprint; Source: Apricum (2021)
The initial demand for low-carbon hydrogen is expected to be in the industry and refining sectors in the EU, and Asia (e.g., Japan, and South Korea)
Low-carbon hydrogen's relevance depends on the sector and the region. Low-carbon hydrogen is declared a priority decarbonization measure in several countries (e.g., China, Germany, India, Japan, South Korea, the UK, and the US). Therefore, these countries have announced incentives such as investment subsidies, production-linked incentives, and tax credits. These incentives and regulatory frameworks, such as the EU emission trading system (ETS), and carbon taxes, either reduce the production cost of low-carbon hydrogen or increase the production cost of fossil fuel-based hydrogen through fair pricing of negative externalities, i.e., emissions. This supports the case for low-carbon hydrogen use in sectors such as industry (e.g., ammonia and methanol production) and refining, where hydrogen use is indispensable.
The relevance of hydrogen color depends on the hydrogen policy of the region
For example, the opportunities for low-carbon hydrogen in the EU are in favor of green hydrogen, with some opportunities in blue hydrogen foreseen as well. The REPowerEU plan by the European Commission aims to import 10 Mt p.a. of green hydrogen by 2030. Germany's €900m H2 Global plan (targetted expansion to €4bn pending EU approval) seeks to import green hydrogen from non-EU countries via auctions under long-term contracts, with first deliveries planned in 2024. Most recently, however, Germany announced its intention to promote blue hydrogen as part of an update to its national H2 strategy. Japan and South Korea also intend to import low-carbon hydrogen including blue hydrogen with a total capacity of ~2.5 Mt p.a[4] by 2030.
The GCC is expected to be the powerhouse of low-carbon hydrogen production
The GCC (Bahrain, Kuwait, Oman, Qatar, Saudi Arabia and the United Arab Emirates) is well-positioned to become the low-carbon hydrogen production powerhouse and is expected to capture a significant share of the global hydrogen demand. Three inherent advantages make the GCC low-carbon hydrogen leader:
The GCC is one of the few regions with abundant resources for blue, turquoise, and green hydrogen production
The economics of green hydrogen are driven by renewable electricity and electrolyzer Capex, which account for the majority of green hydrogen production costs and the GCC boasts the world's best renewable resources at the lowest price. While renewable electricity bid prices reached a record low in the Middle East (e.g., Shuaiba PV tender bid price of ~$1c/kWh), learning rate improvements[5] and economies of scale are expected to reduce electrolyzer Capex, thereby making green hydrogen cheaper.
The GCC also boasts one of the highest natural gas reserves in the world. Qatar, Saudi Arabia, and UAE account for ~20% of the world's proven natural gas reserves.[6] In addition, Saudi Arabia has a maximum CO2 storage potential of 25 Gt,[7] with potential sites located in the industrialized Central and Eastern parts of the country (e.g., Dammam, Jubail, and Riyadh). Existing industries and pipeline networks in the vicinity of the above CO2 storage sites enable Saudi Arabia to deploy CCUS[8] at scale and transport captured CO2 away from industrial clusters using a hub-and-spoke model.
Strategic geographic location supports export to Asia and Europe as well as existing use cases in the domestic market for oil refining and industrial feedstock
The GCC has an advantage in reduced transportation costs due to its proximity to large demand centers in Europe and Asia. Supplying these regions enables the GCC to realize economies of scale, which reduces hydrogen production costs. Several countries have already inked trade agreements with GCC players for the supply of low-carbon hydrogen or derivates (see exhibit 2). As a first, both Saudi's Aramco and UAE's Adnoc conducted a demonstration project to ship blue ammonia to Japan in 2020-21.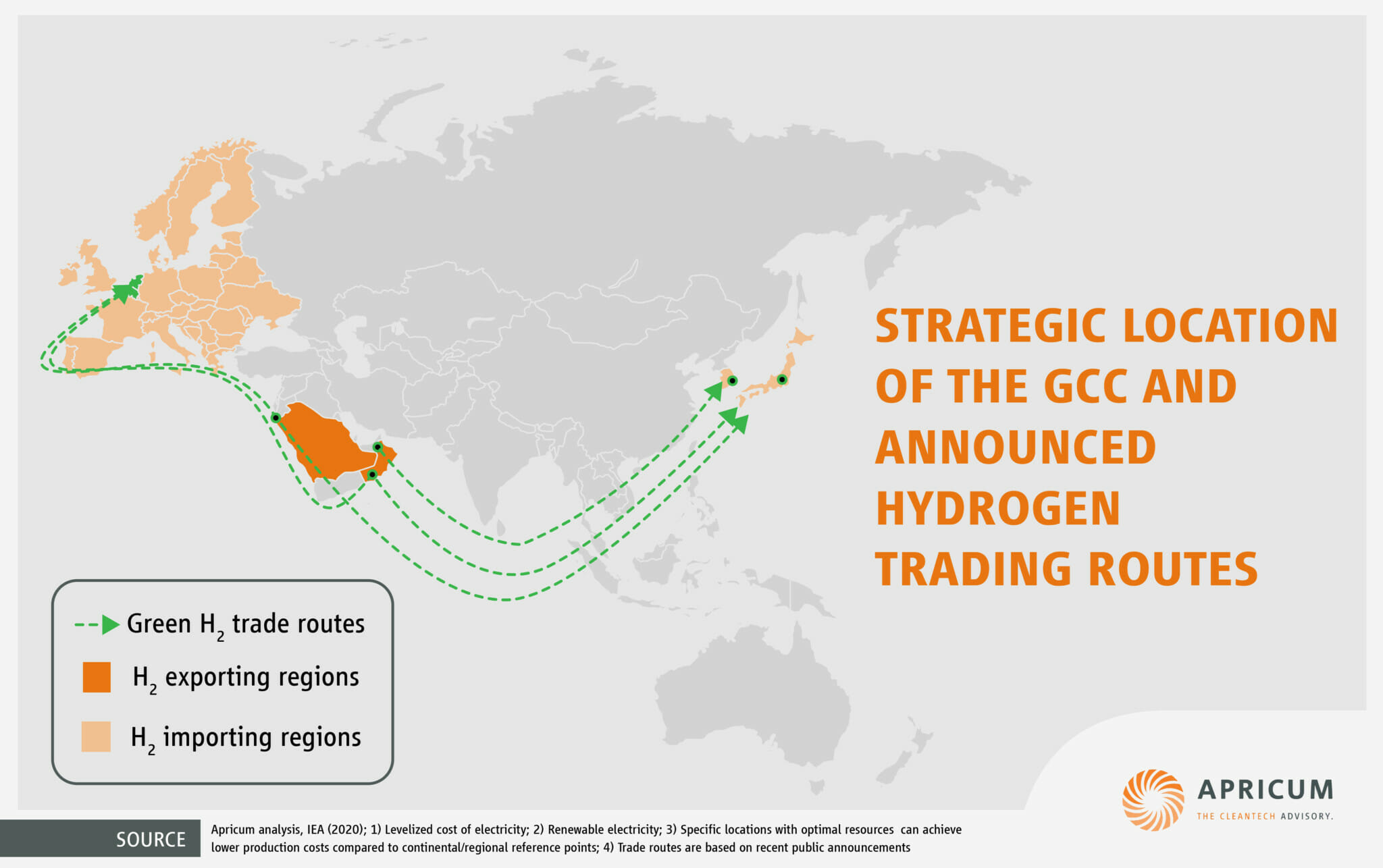 Exhibit 2: Announced trade routes[9] connecting GCC to major import centers in Asia and the EU.
GCC players seem to have recognized their competitive advantages and are aiming for the early-mover advantage
Diversifying into all forms of low-carbon hydrogen is the advantage that the GCC enjoys in comparison to the rest of the world. GCC players can pursue green, blue, and turquoise production simultaneously due to the abundance of low-cost renewables, natural gas reserves, CO2 storage sites, and their existing infrastructure for transporting hydrogen derivatives such as ammonia and methanol via pipelines and tankers to export terminals and local demand centers. National governments, oil and gas companies, power and water utilities, and sovereign wealth funds are the  regular players in the GCC's low-carbon hydrogen space.
Realizing the above advantage, the energy ministries of Saudi Arabia, the United Arab Emirates, and Oman have either developed or are developing a national hydrogen strategy. Saudi Arabia and the United Arab Emirates are developing a general hydrogen strategy, with green and blue hydrogen already viewed as a critical component of existing policies or roadmaps, such as Saudi's Circular Carbon Economy (CCE) program and UAE's Hydrogen Leadership Roadmap. Oman recently announced a national specific green hydrogen strategy with a production target of 1 Mt p.a. by 2030. Oman has set up special economic zones (SEZs) in Sohar, Duqm, and Salalah to streamline land allocation and provide export infrastructure for hydrogen production. Recently Oman launched an entity – Hydrom, to award land blocks in SEZs, with the first bidding round for two land blocks in Duqm planned by end of 2022
GCC players have announced several projects in Oman, Saudi Arabia, and the United Arab Emirates. Currently, most projects are being developed by state-owned oil and gas and power and water utility companies either exclusively or as a consortium. While the former category usually diversifies into low-carbon hydrogen sources such as turquoise and blue hydrogen inline with their petroleum policy, the latter aims to extend its business line of renewable electricity production and water desalination for green hydrogen production. One of the world's large-scale projects – the NEOM green hydrogen project, is expected to be operational by 2026, boasting a 2 GW electrolyzer plant facility. Some of the other landmark projects are as shown below (see exhibit 3).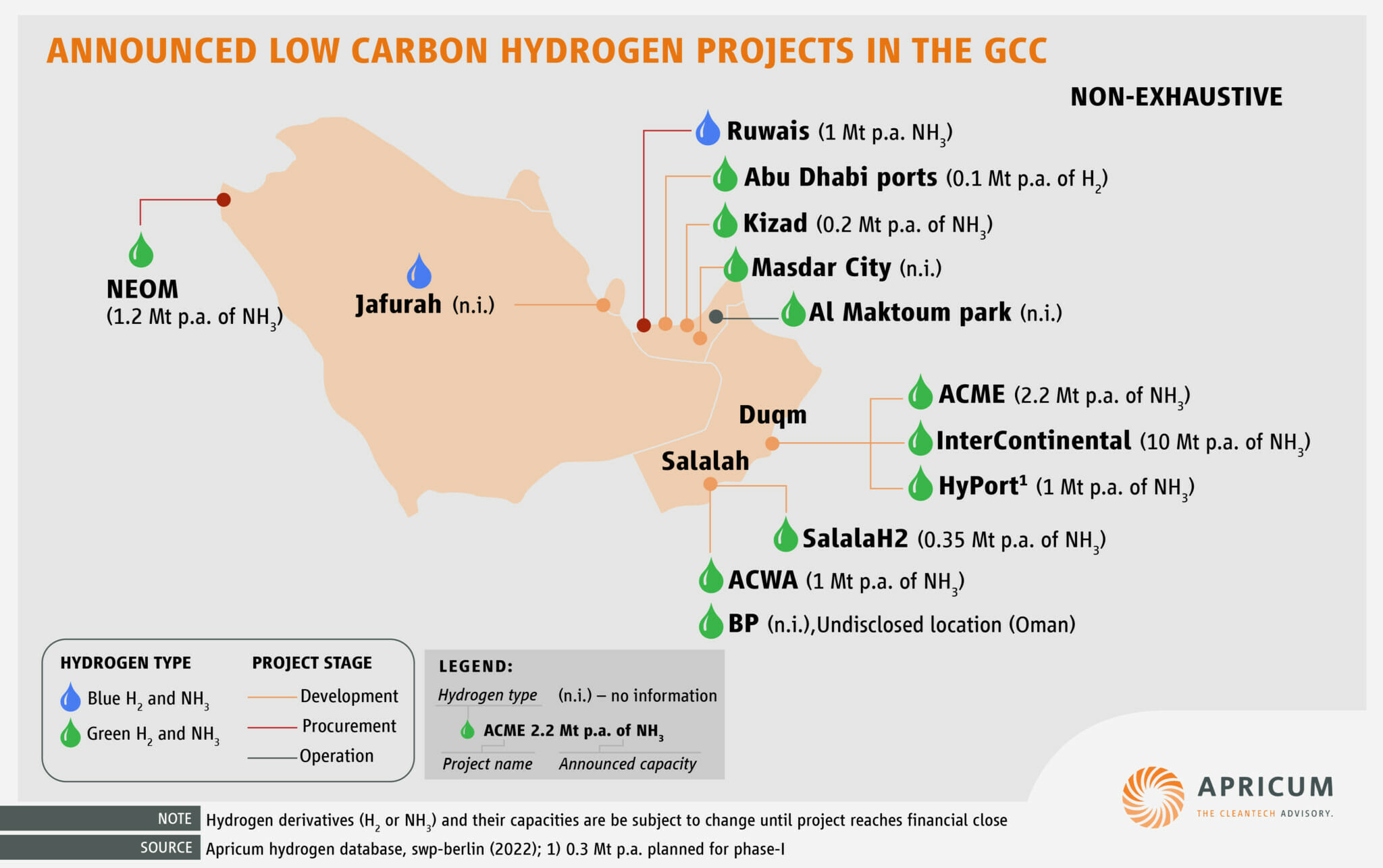 Exhibit 3: Low-carbon hydrogen production hubs in the GCC. Source: Apricum hydrogen project database
The interest of GCC players in low-carbon hydrogen is evident from their several projects, export agreements, and national hydrogen strategies. As oil and gas-based economies, hydrogen can be a hedging instrument against the impacts of the global energy transition that mitigates fossil fuel use and prefers low-carbon solutions. While low-carbon hydrogen sales have been targeted for blue hydrogen for Asia-Pacific so far, GCC players can leverage their early mover advantage to secure long-term offtake agreements with the EU through programs such as the H2 global initiative. Besides export, the GCC also has domestic demand for low-carbon hydrogen in oil refining, ammonia, and transportation sectors. Lastly, the abundant resources for low-carbon hydrogen at low cost enable the GCC to pursue a diversification strategy and become the powerhouse of low-carbon hydrogen.
How Apricum can support
As the energy transition accelerates, Apricum provides strategy and transaction advisory services along the entire energy storage value chain, leveraging a unique blend of expert strategy consulting, investment banking proficiency, and deep technology and market know-how. Our support helps drive the global renewable energy transition by answering the key strategic questions faced by both established market players and new entrants with market assessments, strategy and business model development and review, competitive screenings, fundraising, M&A (sell-side, buy-side), due diligence, and project finance.
If you want to expand or develop your business in the sustainable and booming hydrogen space, reach out to Florian Mayr or Krzysztof Ignaciuk.
[1] Apricum estimate (inspired IEA 2022)
[2] Scope-1, if CO2 storage site is operated by hydrogen producer, and scope-3, if CO2 is sold as feedstock
[3] As per proposed EU Gas and Hydrogen Directive
[4] IEA 2022
[5] Cost reduction achieved over time due to learning (e.g., technology innovation) over the production period
[6] Worldometers.info
[7] BMWK.de (Federal Ministry for Economic Affairs and Climate Action, Germany)
[8] Carbon capture utilization and storage
[9] Trade routes are non-exhaustive and are based on public announcements as of Q1 2022, Apricum (2021), IEA (2020)